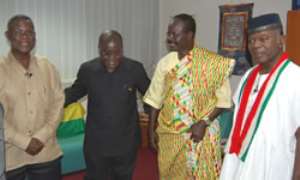 After a successful 'Presidential Debate' in Accra on Wednesday, the stage is set for another grilling marathon slated for November 12 in Tamale.
The second in a series of two 'Presidential Debates' would be moderated by Prof. Ivan Addae-Mensah, former Vice Chancellor of University of Ghana, and Israel Laryea, a seasoned broadcaster with Joy FM.
Mrs Jean Mensah, the Administrator of Institute of Economic Affairs (IEA), announced this on Frontpage, a Joy FM's current affairs programme on Friday.
She said questions on the second debate would predominantly focus on good governance and few questions on the social sector.
Like the first, the second debate is being organised for the four candidates of political parties with representation in Parliament.
Acknowledging certain shortfalls in the first debate, Mrs Mensah noted that the first was an improvement over previous ones organised by the IEA.
The improvement indicates the kind of political maturity Ghana is aspiring to achieve as a democratic state.
"I think that is what we are doing at IEA in our little way to help reach that horizon."
Mr. Kojo Yankah, President of the African University College of Communications, said although it was a useful exercise, more has to be done to improve on moderation and participants' style of delivering.
"Now when you move from jobs to oil to FDI, these are totally different areas that do not link up anything, so the logic of it was questionable in my opinion."
He charged the moderators to research on the participants to equip them on "what these same candidates have said elsewhere and what they are saying now and why they are saying what they are saying now".
Mr. Yankah advised the candidates to arm themselves with facts and figures; "They should not come and guess, they should not come and throw anything that they have on their minds to us because nobody is checking."
Mr. Emmanuel Akwetey, Executive Director of Institute for Democratic Governance, shared some of the concerns raised by Mr. Yankah.
He entreated political parties to coach their candidates on how to present themselves in public by rehearsing before any event to make them appear professional on stage.
Candidates were also asked to enrich the debate by being specific on issues. Mr. Akwetey said that could be done when candidates try to mention particular problems of a particular sector and offer pragmatic solutions to them.
Story by Isaac Essel