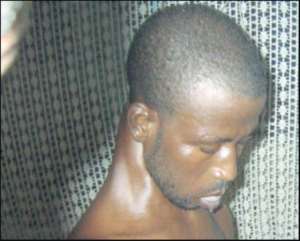 A 30-year-old khebab seller Anaaya Kakiba aka Isaac, who allegedly lamented that his 'wife has been denying him sex, has committed suicide.
The khebab seller took his own life in the early hours of Saturday October 25, 2008 at La in Accra to end his sexual agony.
The deceased who hailed from Bolgatanga in the Upper East Region, lived with his wife, Bukare Madumbire and their three children – two boys and a girl¬ in a wooden structure behind the La Police Station.
On October 24, 2008, Anaaya reportedly picked a quarrel with his wife over the absence of their first child from school on that day.
According to sources, his wife explained that she was not able to take the child to school because she had to take their little girl, who was sick, to hospital.
Early the next day, October 25, Anaaya revived the quarrel threatening to kill himself with some quantity of Alomo gin bitters which his wife managed to snatch from him.
When the quarrel was finally settled by their neighbours, Anaaya went into his room with the promise that he had rescinded his decision to commit suicide.
Moments later when Bukare wanted to get into their room, she found out that her husband had locked himself inside.
When all her efforts to have him open the door proved futile, she went to peep through the back window only to see Anaaya's body hanging on a rope attached to the roof board.
She raised an alarm in an effort to save the life of her husband, but when the door to the room was broken by neighbours, Anaaya was long dead.
A family member, Appiah Ayariga, who spoke to this reporter, intimated that his kinsman had on several occasions broken up with Bukare due to frequent misunderstandings but no sooner had they separated than they were seen together again.
He was however not sure of what really caused the countless separations that characterized the couple's marriage.
Asked if Anaaya ever confided in him that the wife denied him sex, he was evasive but added that "as a man if your wife refused you sex you can hardly tell someone. But I don't think you have to kill yourself."
Stella Swanikier who also spoke to this reporter at Osu where Anaaya worked (Duncan's Place) said she last saw Anaaya in a "blue kiosk" near her residence, pleading with the attendant to add some bonus of akpeteshie (a locally manufactured gin) to his glass.
She claimed to have known Isaac as a child when he was first brought to Accra and described him as a very shy and respectful boy. However for about on year now, Isaac had become notorious for alcohol consumption.
Isaac, she said, always lamentcd over the 'treatmcnt' his wife meted out to him and that had become an open secret in the neighbourhood.
A police source confirmed the story and said figuratively that Anaaya had hanged himself because his wife did not 'keep her store open', which apparently meant the deceased's wife was denying him sex.
"It is really a problem when you women refuse to open the store and always keep it under lock and key," he added.
Meanwhile, the mortal remains of Anaaya have been deposited at the Korle-Bu morgue awaiting autopsy and burial.