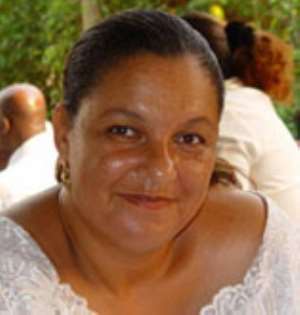 The Communication Director of Prof. Atta Mills campaign team, Ms Hanna Tetteh, has been attacked and robbed at gunpoint.
What was meant to be a cool off dinner night yesterday, turned sour for the former Member of Parliament for Awutu/Senya whilst everybody looks on helplessly.
The unidentified assailant wielding gun attacked her at Palace Restaurant at East Legon in Accra around 8p.m on Monday. Ms Tetteh lost her money and other valuables including jewels in the life-threatening incident.
Ms. Hanna Tetteh narrated her ordeal to Joy News expressing disgust about the state of security in the country.
"It says something about the state of security in which we live. I will never have thought until yesterday that going out in the evening to seat at a restaurant was a risky event."
She recounted; "This was a large hand gun that was pointing into my face and it wasn't a comfortable sensation...when he corked the gun I knew that this was not a joking matter; and I gave him everything he asked for."
Ms Tetteh was "shocked" that a robbery could take place in such a busy place at that time of the day.
"It wasn't as if this was some quiet location that it wouldn't be easy to identify and the person could come and go just like that," she said with a sad voice.
Story by Isaac Essel