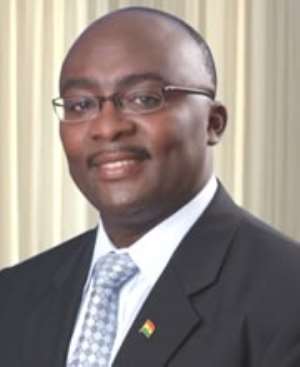 Dr. Mahamadu Bawumia, running mate to Nana Addo Dankwa Akufo-Addo, New Patriotic Party (NPP) presidential candidate for Election 2008, at the weekend said the party would continue to improve the living conditions of residents of Zongo communities, if given the mandate.
He cautioned Muslim youth against being used by politicians to create violence during electioneering campaigns.
Dr. Bawumia said these when he stopped over at Wenchi in the Brong Ahafo Region, to address a mini-rally, on his way to the Upper West Region for a campaign tour.
He said that the NPP government recognised the contributions of Muslim scholars to nation building and would ensure that the talents of Muslim youth were harnessed for national development.
Dr. Bawumia advised residents of Zongo communities to work hard to erase the wrong perception by some people that Islam was a religion of violence.
He said the NPP had competent and distinguished personalities to lead the country to the middle income status by 2015, and his partnership with Nana Akufo-Addo would attract foreign investors into the country.
Dr. Bawumia urged NPP foot soldiers to explain the Danquah-Busia tradition and ideologies to Ghanaians to win more supporters for the party.