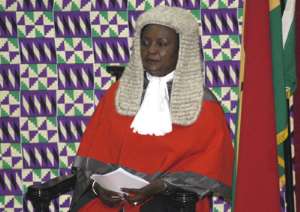 Her Ladyship Chief Justice, Georgina Wood
Four justices who were recently appointed to the Supreme Court of Ghana and one High Court judge in-charge of the newly established Human Rights Court left Accra on September 18 for the Leitner Centre for International Law and Justice, Fordham Law School in New York, as part of the Judicial Service's continuing training for judges.
They are Ms  Justice Rose Constance Owusu, Mr  Justice Jones Victor Dotse, Mr Justice Anin Yeboah, Mr  Justice Paul Baffoe Bonnie, all Supreme Court judges, and Mr Justice Paul Uuter Dery, High Court judge at the Human Rights Division.
A statement signed by Devine A. Kwapong, Director of Communications of the Judicial Service, said the judges would be accompanied by Mr  Abdullah Iddrisu, First Deputy Judicial Secretary and Mr Ernest Kofi Abotsi, a lecturer in constitutional law at the Law Faculty of the Kwame Nkrumah University of Science and Technology.
The tour, the statement said, had been made possible following the visit of the Chief Justice, Mrs Justice Georgina Wood to the United States in May this year under the auspices of the Fordham Law School and her meeting with the Chief Justice of the US Supreme court, Mr Justice John Roberts. It was sponsored by Fordham Law School and the US Embassy in Accra.
The statement said the delegation would also spend three days at William Rehnquist Centre on the Constitutional Structure of Government, University of Arizonia, a centre which was set up to honour the legacy of William Rehnquist, the 16th Chief Justice of the US Supreme Court and a strong defender of separation of powers and judicial independence.
Other places on their study tour include human rights institutions, the Supreme Court of the United States and the Federal Judicial Centre.
The statement said Justice Dotse would also deliver a paper on 'The Role of the Ghanaian Judiciary in Nation-Building' to the New York Bar. The judges will be away for two weeks.