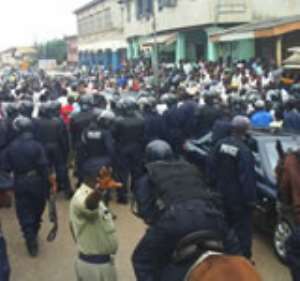 A 34-member electoral security task force has been inaugurated in Tema to ensure the maintenance of security in the metropolis before, during and after the December general elections.
The task form also seeks to involve other stakeholders to strategize towards promoting peace among followers of political parties in the metropolis.
The Metropolitan Electoral Security Task Force is made up of all police commanders in the metropolis as well as the Military, Fire Service, Customs Excise and Preventive Service (CEPS), Immigration, Navy, Bureau of National Investigation (BNI) and National Security.
Deputy Commissioner of Police John Kudalor, Tema Regional Police Commander, said the task force would make sure all documents needed for the election would be properly protected to ensure that it reach its destination safely.
He gave the assurance that they would also ensure that votes cast on December 07 would be safeguarded to avoid rigging.
He pleaded with the leadership of political parties to educate their loyalists to desist from fuelling and engaging in violence activities but should rather be tolerant of each others views.
"As Ghanaians, we should note that, election is not about fight for power to destroy each other, properties and our dear nation, but rather with one voice nominate a leader to control the affairs of this nation."
He said the police would bring to book anybody who engages in activities that would threaten security in the metropolis.
Assistant Commissioner of Police Dr George Akuffo Dampare, Chairman of the Task Force, said their activities had been divided into the pre-election, election and post election components.
He said under the pre-election component members of the Task Force would interact with stakeholders to take stock of their responsibilities for a peaceful election as well as educate them on the activities of the security.
He said during such interactions, stakeholders would have the opportunity to constructively criticize them and air their expectations.
Mr Michael Boadu, Tema Metropolitan Electoral Officer, urged all stakeholders to collaborate to ensure a free, fair and peaceful election come December 07.
Mr Boadu pleaded with the media not to announce results of elections unless such provisional results have been endorsed by the returning officer.