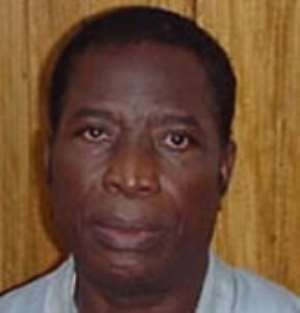 Having failed to successfully file his nomination forms to contest the December elections, Mr. Dan Lartey, flag-bearer of the Great Consolidated Popular Party (GCPP), is nursing the idea of dragging Ghana's Electoral Commission to court for "deliberately" rejecting his nomination.
He told Joy News he hoped the EC would be compelled by the court to rescind the decision to disqualify him from contesting for the presidential position.
"I spoke to Dr. Afari Gyan and he said if the court instructs him he will comply; so in other words he was leading me to the court; if there is a procedure to go through in which he will comply, then why not?"
Mr. Lartey was disqualified along with two other presidential candidates – Prophet Daniel Nkansah of the New Vision Party and Richard Nixon Tetteh, an independent candidate, - for presenting incomplete nomination forms.
Mr. Lartey accused the EC of "deliberately saying there was a mistake in the form" he presented on Friday 17, 2008, the final day for submission of nomination forms.
He told Joy News' Sammy Darko in an interview that since the EC had refused to take a second look at his case, he had no option but to go to court.
Asked if it was not too late since balloting had been completed, he retorted; "It doesn't matter if they have balloted…if I am put at zero (position) or whatever it is, and I am on the line for election that is alright".
Asked if he really meant business, Mr. Lartey reiterated; "If it is the process to be able to settle the matter why not?"
However, he could not readily tell when he was going to initiate the court action.
Mr. Lartey, 82, has no dream of retiring from politics. "A human being who is alive and not dead, how can he retire from politics? Until the bones are rotten," die-hard Uncle Dan philosophized.
He said Ghana has a lot of problems in the country and he is the only person with the "methods and way" to solve them.
Meanwhile, Ms. Anna Bossman, acting Commissioner of the Commission on Human Rights and Administrative Justice has said Mr. Dan Lartey has no case going to court.
"I doubt it, I am not sure what his contention is. I don't see what his problem is," she told the Accra Daily Mail.
Story by Isaac Essel