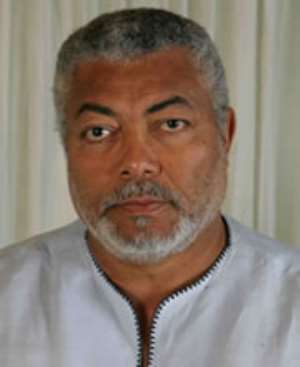 Ex-president Jerry John Rawlings has challenged members of the Kufuor administration to swear an oath of innocence to unravel the killing of 34 women in Ghana before the 2000 election.
According to Mr. Rawlings key members of the administration masterminded the killing to cause panic and insecurity in the country.
At a rally in Nsuta-Kwamang-Biposo constituency, Mr. Rawlings told supporters of the NDC he was ready to subject himself to the oath of Antoa Nyama, a river god in the Ashanti Region, as a demonstration of his innocence.
He charged President Kufuor, and other key officials of his administration, including, Nana Akufo-Addo, presidential candidate of the NPP, as well as Jake Obetsebi Lamptey to follow suit, if they were equally innocent.
According to him, a research by a South African Company in 2000 which was paid for by the NPP showed that the NDC due to its hard work and popularity was not going to lose the elections.
The NPP had to resort to other means including the killing of women to make the government unpopular, he maintained.
He insisted he was not going to rest until justice was served.
Mr. Rawlings had earlier accused 15 cabinet members under the Kufuor government of committing the crime, and called for a lie detector test to be employed to ascertain the truth.
Meanwhile one person, Charles Ebo Quansah was convicted by an Accra High Court for killing nine of those women and is on death row at the Nsawam prison.
Story by Nathan Gadugah