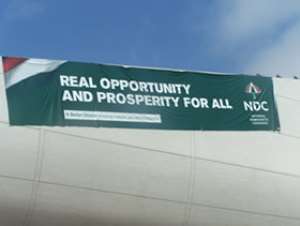 Mr. John Mahama Presidential Running-Mate of the National Democratic Congress (NDC) on Sunday launched the party's "operation maximize the votes in the Volta Region," expecting to win between 90 and 99 percent of votes in the region in the December 7 elections.
Mr. Mahama, who addressed rallies at Agbozume, Denu and Aflao assured the people that they would be greatly rewarded by a government of the NDC.
He said though signs of NDC's victory in the December elections were obvious, that would not make the party complacent.
Mr Mahama therefore urged President John Agyekum Kufuor to emulate the example of former President Jerry John Rawlings and hand over power peacefully and honourably.
He said a government of the NDC would afford all Ghanaians equal opportunities to contribute their quota to national development no matter their political or ethnic affiliations.
That he said, is not the case under the NPP, which he accused of practicing a "policy of selective opportunity for the few people close to government, leaving the majority frustrated deprived and poor".
"My own relative was victimized leading to the collapse of his timber business, throwing about 300 workers out of job. We cannot build Ghana this way," he stated.
"Ghanaians have a right to livelihood and to work for it is a basic human right enshrined in the 1992 constitution," Mr Mahama said.
He said a government of the NDC would ensure an absolute free and compulsory free basic education, run a free textbook scheme and address the welfare of the teachers.
Mr Mahama said the Aflao border would be given a befitting facelift as an important gateway to the country.
He said the NDC government would continue with its programme of breaking the monopoly in the production of cement as it did with the establishment of the Diamond Cement factory at Aflao.
That, Mr Mahama said would boost the construction sector thereby generating more jobs in both sectors.
During a courtesy call on Chiefs in the Ketu-South constituency at Aflao, Mr Mahama promised that a government of the NDC would work closely with chiefs in the country.
Togbe Amenya Fiti, Fiaga of Aflao cautioned against the tendency of politicians to shift their campaigns from issues to personal attacks and advised Mr Mahama to be constructive in his campaigns.
Togbe Addo VIII and Togbe Hor, Paramount Chiefs of Klikor and Some (rpt Some) respectively, expressed worry about "high utility bills", describing these as "burden on the average Ghanaian".
They called for violent free elections in December.