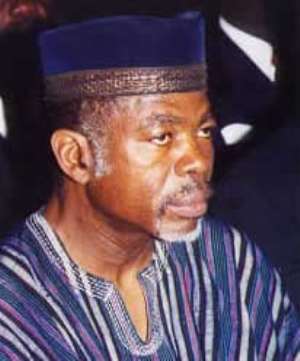 The Electoral Commission (EC) on Friday endorsed Dr Edward Nasirgrie Mahama, Flag bearer of Peoples National Convention (PNC) as Presidential Candidate to contest Election 2008.
Dr Kwadwo Afari-Gyan, Chairman of the EC, who was the Returning Officer for the presidential nominations, declared Dr Mahama, as candidate for the December 7th polls after visual examination of the nomination documents.
The PNC Flag bearer accompanied by the running mate, Ms Petra Maria Amegashie; National Chairman, Alhaji Ahmed Ramadan, other National Executive members and teaming supporters dressed in party colours of red, white and green danced to brass band music.
The party, in addition to paying 5,000:00 cedis presidential nomination fee, also paid 85,000:00 cedis for 170 Parliamentary Candidates across the country.
Dr. Mahama, called on other political players – the media, EC, other political parties, electoral observers, and democratic institutions to keep their word and commitment to peace.
He said they must walk the talk, stop preaching peace whilst they covertly encourage their supporters to fight.
Dr Mahama commended the Electoral Commission (EC) for conduct of Elections 2000.
He said: "The professionalism exhibited by the EC before, during and after previous elections needs commendation by all Ghanaians and we hope you will conduct Elections 2008 in the same manner."
Dr Mahama said election would be conducted based on issues and parties should not castigate opponents, adding, "we will address the concerns of our people.
"We also expect the media to direct voters' attention to issues in the manifestoes of the political parties."
Mr Thomas Ward Brew, Presidential Candidate of Democratic Peoples Party (DPP) supported by his running mate Mr. Peter Dwamena a 63 year banker filed the nomination forms.
He said he would cause a political miracle in the December polls by winning to form the next government.
He said among the first things that President Ward Brew will undertake in January 2009 will be to abolish the filling for nomination to contest for elections.
The presidential nomination papers are to be filed at the EC Headquarters, while parliamentary nomination papers are to be submitted to the Commission in the districts.
In Election 2004, Mr Ward-Brew, was not allowed to file his nomination papers because he got to the EC office late.