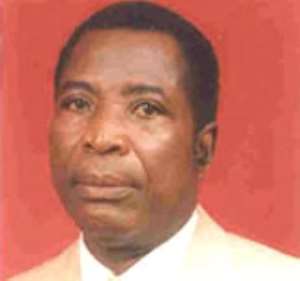 The presidential ambition of Dan Lartey, the flag-bearer of the Great Consolidated Popular Party (GCPP), is in a fix; he cannot raise GH¢5,000 to pay his filing fee.
The eighty-two-year-old politician, who is attempting to contest the presidential slot for the second time, told Joy News he has been able to raise GH¢2500, but the scare of not being able to gather the remaining amount, before the Electoral Commission closes nomination by 4:00 p.m Friday, has been haunting him.
"The Electoral Commission waited until two days to time before it brought this situation. If the Electoral Commission had given us sometime, for at least a week, I will have been able to raise the money.
"Two days I have been able to raise GH¢2500, if I have another two days I will be able to raise it. But as at now I am in a limbo," Mr Dan Lartey said in desperation.
He said all those who have filed their nominations have been in government before and were able to accrue enough money from various positions they held whilst in government.
"I have not being in government! And everything I am doing now, I am doing within my own resources."
The founder and leader of the GCPP is therefore appealing for cash donations to enable him pay up his filing fee to the EC. Without these forthcoming from generous members of public and supporters of the party, his dreams of featuring in the 2008 presidential election would be curtailed prematurely.
With the payment of the filing fee for its presidential candidate becoming an albatross to the party, it's not clear how the GCPP intends to handle the filing fees for the 230 parliamentary candidates it promised to field in all the constituencies?
The EC fixed the filing fee at GH¢5,000 for the presidential candidates and GH¢500 for the parliamentary aspirants.
These filing fees are refundable to candidates who obtain 25 per cent of votes cast in the case of presidential elections and 12.5 per cent of votes cast in the case of the parliamentary elections.
Yesterday, the presidential candidates of the National Democratic Congress, the New Patriotic Party and the Convention People's Party were cleared by the EC as qualified to contest for the election.
The People's National Convention, Democratic Freedom Party, Great Consolidated Popular Party among other parties and independent candidates are yet to file their nominations.
Mr. Dan Lartey, a veteran politician, bounced back into the political scene with his popular slogan "domestication" when he contested for the presidency for the first time in 2000.
He polled 66,439 representing 1.1% of the 6,500,870 valid votes cast.
In 2004, he was part of the Grand Coalition that won 4 out of 230 seats with Edward Mahama as its presidential candidate and won 1.9% of the votes in the presidential election.
Story by Isaac Essel