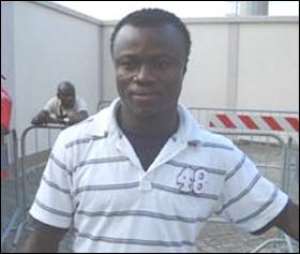 Alex Asamoah THE MANAGEMENT of Ashantigold FC has placed a whopping GH¢100,000 on the head of striker Alex Asamoah.  Acting on the player's demand, the Miners have agreed to let Asamoah join any club of his choice in the coming season but only at the price stated above.
A close source to the club who divulged this to DAILY GUIDE SPORTS said the huge amount placed on the player's head is not a strategy by management to thwart Asamoah's plan to leave the club.
Explaining, the source said Asamoah without collecting a dime signed a fresh three-year contract with the old management of Ashantigold last season, of which two years is still pending.
Asamoah and the old management thus agreed on paper that should he land any contract in future, the Miners would give him 30% of the fee, the source revealed.
Still on the contract, he added that the remaining 70% would be shared on a 40% and 30% basis respectively between Ashantigold and Berekum Arsenal, Asamoah's former club.
According to him, Fortia Limited, the new managers of Ashantigold are convinced that at least the club should pocket GH¢30,000 from Asamoah's move, hence settling on that amount.
He stated that the Miners would not hesitate to let Asamoah go should any club cough out the GH¢100,000.
From Fred J.A. Ibrahim Jnr.,  Kumasi