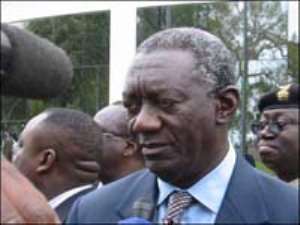 At the invitation of Her Majesty the Queen, the President of the Republic of Ghana, Mr John Agyekum Kufuor, and Mrs Theresa Kufuor will be paying a state visit to the Netherlands from Tuesday 21 to Thursday 23 October. President and Mrs Kufuor will be visiting The Hague and Amsterdam.
The purpose of the visit is to affirm and strengthen the friendly ties between Ghana and the Netherlands. On Tuesday 21 October the Queen will receive President and Mrs Kufuor at Noordeinde Palace, where a state banquet will be given in their honour in the evening. The Prime Minister will receive the President at his office in the Binnenhof, where a government lunch will be held for the President and his wife. Mr Kufuor will also meet the Presidents of both houses of parliament.
On Wednesday 22 October the Mayor of Amsterdam, Job Cohen, will receive the President and his wife in Amsterdam. The presidential couple will lay a wreath at the National Monument on Dam Square. The President, accompanied by the Minister for Foreign Trade, Frank Heemskerk, will also meet with representatives of Dutch industry.
In the afternoon the President will visit the Sitos Group, a logistics company which stores and ships cocoa and coffee. In the evening President and Mrs Kufuor will host a music and dance event for the Queen and selected guests at the Nieuwe Kerk in The Hague. Finally, on the morning of Thursday 23 October, the President will visit the Evides Water Company in Spijkenisse.