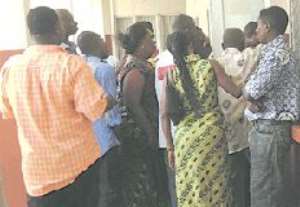 Parents whose children have still not been placed in senior high schools have expressed their frustration with the Computerised Schools Selection and Placement System and urged the Ghana Education Service to improve on the efficiency of the system.
Some of the parents were disappointed that with second-cycle schools set to re-open for first-year students today, they had still not been able to secure placements for their children.
Although the GES had given the assurance that all students would be placed, the parents said it was time the perennial problem was addressed, since it created too much anxiety among candidates who had not been placed.
Scores of parents continue to besiege the GES Headquarters with their children in search of school placements.
They told the Daily Graphic in separate interviews that the total scores of all the qualified students should be displayed on the results slips to ensure greater transparency in the selection process.
"My child had aggregate 15 but he has not been placed in any school," one frustrated parent told the Daily Graphic.
Out of the 173,315 BECE candidates who qualified for placement, 139,478, including 1,579 re-entry candidates, have been placed in SHS and technical institutes, leaving 33,837.
But the GES has assured students and parents that all students will be placed in schools.
"If those who have not been placed decide to accept schools they did not choose, they will all get schools by the end of the month," Mr Stephen Adu, the Director of Basic and Secondary Education at the GES, told the Daily Graphic.
He acknowledged that there might be a few problems with the system and indicated that most of the problems students were facing had been created by the students and their parents themselves.
"Some of the parents have failed to accept what they have chosen themselves," he stated.
He explained that although there was a lot of interest in the 'big' schools, competition for admission to those schools was very keen and said students and parents needed to recognise that.
Some of the parents are smarting under pressure from their children to get them placed in schools of their choice, particularly the 'big' schools.
One parent, Mr John Obeng, said although his child had been offered placement at Koforidua Secondary/Technical School, that was not the choice he had made.
"My child chose schools in the Central Region — Mfantsipim, Adisadel, St Augustine's and Ghana National College — but I think there was a mix up in the computer selection process.
He had aggregate six, with a total score of 438," he stated, and showed reporters the results slip to buttress his claim.
Another parent, Peter Simpson, said although his child had been placed at the Ashaiman Secondary School, she was very unhappy and had declined to go.
"My child had aggregate 14 and she wants either Tema Senior High School or Chemu Secondary School.
She is sad and I have been unable to convince her to go to Ashaiman Secondary School," he stated.