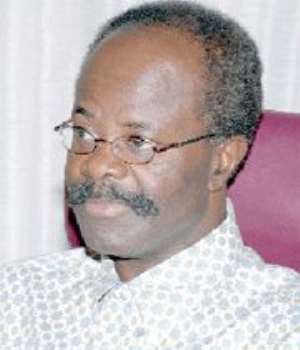 Dr Papa Kwesi Nduom, flag bearer of the Convention People's Party (CPP) is urging the electorate in the Ashanti Region to vote for a presidential candidate who is energetic, and will go to the Flagstaff House to work hard to improve the lot of Ghanaians, and not someone who is likely to go on retirement if he assumes office.
"We do not want a president who, when given the mandate, will retire at the Flagstaff House, but a president who will work assiduously to better the lot of the citizens in this country, he said.
Dr Nduom made the call when he outdoored his party's parliamentary aspirant for the Ejisu Constituency, Mr James Sarfo-Ansah, at Ejisu.
He described himself as someone who had exhibited that kind of quality and therefore, the best person to be the next president of Ghana.
According to the CPP presidential hopeful, the assertion that Ashantis in the past did not like the CPP was far from the truth.
He said people in the Ashanti Region had seen the deceitful tactics of the New Patriotic Party (NPP) and the National Democratic Congress (NDC) and was optimistic that for this reason, Ashantis would return the CPP to power by voting for him in the December polls.
The CPP flag bearer impressed on his audience that the high level of antagonism between the NDC and the NPP, which sometimes turned bloody, was another important reason why the electorate must vote for his party.
He maintained that a vote for the CPP would ensure peace in the country, adding that the party had shown in many ways that it was peaceful and would seek the welfare of Ghanaians.
He wondered why after voting in four consecutive elections, the Ejisu Constituency was still not better off in terms of social amenities and jobs.
He, therefore, asked the electorate in those constituencies to vote for the CPP in the December general election to facilitate the creation of jobs in their communities to improve their standard of living.
Introducing Mr James Sarfo-Ansah to the crowd, Dr Nduom urged them to support him in any way that they could to ensure that he wins the parliamentary seat for the CPP.
He described Mr Sarfo-Ansah as somebody who was knowledgeable, hard-working, affable and humble, and will work to address their problems if he was voted to parliament.
Mr James Sarfo-Ansah, for his part, told the people that it was clear that both the NDC and the NPP had nothing to offer them.