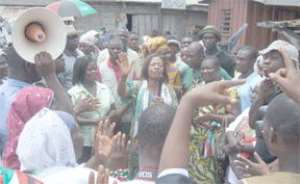 Mrs Rebecca Akufo-Addo, wife of the New Patriotic Party (NPP) flag bearer, Nana Addo Dankwa Akufo-Addo, has said the NPP will continue to make the issue and welfare of the youth and women its priority when it forms the next government.
She said most of the policies of the NPP would always be geared towards making life better for women and the youth to realise their full potential in order to contribute to the advancement of the nation.
Mrs Akufo-Addo was speaking at the dedication of the refurbished old national headquarters of the party at Kokomlemle, as the headquarters of the youth and women's wing of the NPP in Accra.
She listed some of the opportunities as the provision and expansion of educational facilities, employment opportunities, free maternal and anti-natal care, school feeding programme, free bussing of pupils and the Capitation Grant.
"Under the NPP, the fear accompanying the blessing of pregnancy had been removed with the free maternal and anti-natal care and after birth the child would also benefit from free education" she said.
Mrs Akufo-Addo added that the Kufuor Administration had witnessed an unprecedented number of women attaining their highest position of national life, adding that all these would be enhanced under Nana Akufo-Addo's Administration.
She said aside all these achievements, some challenges remained but with the foundation established, the problem hindering the advancement of women would be surmounted under Nana Akufo-Addo.
Touching on the news media, she said the party believed that the individual and the media must be free to express their views about issues without let or hindrance, hence the unprecedented freedom that the press was enjoying.
Mrs Akufo-Addo who described the women and youth wings of the party as the main pillars that had contributed to the success story of the NPP also commended them for their zeal and steadfastness.
Ms Vicki Bright, a Minister of State at the Presidency, urged the women and youth to continue preaching the good work of the NPP administration to Ghanaians as a means to canvass votes to ensure that the party had a resounding victory.
She said the records spoke for themselves, Ghanaians could feel the good policies of the government in the form of the NHIS, School Feeding Programme, Capitation Grant, unfettered freedom of the individual and the press, but asked that these must be preached to prevent their opponents from diluting them.
Story by Donald Ato Dapatem