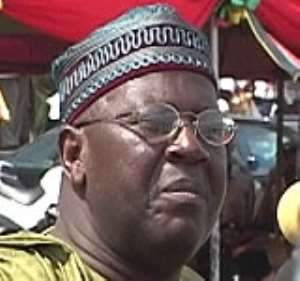 Security Watch Africa, has nominated Vice President Alhaji Aliu Mahama, as recipient of the joint "Golden Star Award for Development and Stability in Governance in West Africa".
Other recipients of the highest award of the organisation, which would be presented at an awards ceremony in Abuja, Nigeria on Friday, are Mr. Kofi Annan, immediate past Secretary-General of the United Nations and Madam Ellen Johnson-Sirleaf, President of Liberia.
A document from Security Watch, which was made available to the Ghana News Agency, in Accra on Thursday said Alhaji Mahama was being honoured for conducting himself excellently as Chairman of the Ghana Armed Forces Council since 2001.
The document said the Vice President had contributed towards the maintenance and preservation of the security, peace and stability of Ghana.
The awards ceremony is expected to be telecasted live on major international media networks such as the CNN.
Security Watch Africa educates Africans mainly through the media on security and security related matters.
It also aims at bridging the information gap between the security agencies and members of the public and to create a deep consciousness and awareness in the minds of the people on security related issues.
Security Watch alert governments and appropriate agencies about threat to life, property, financial and economic crimes, violence, food poisoning and drug adulteration and insurance issues.
The ultimate aim of the organisation is to ensure that all persons in Africa cultivate and nurture deep security awareness and consciousness for peace to reign.
There is no confirmation from the Office of the Vice President whether he would attend the function personally to collect the award.
However, people expected at the function include Dr. Goodluck Jonathan, Vice President of Nigeria, Mr. David Mark, President of the Nigerian Senate, Justice Idris Kutigi, Chief Justice of the Nigeria Federation Supreme Court and former President of Nigeria, General Ibrahim Badamosi Babangida (Rtd).
The rest are Ghana's Inspector General of Police (IGP) Mr. Patrick Kwarteng Acheampong, the IGP of Nigeria, Sir Mike Mbama Okiro, Mrs. Beatrice Muna Sieh-Brown, the IGP of Liberia, Chief of Army Staff, Nigerian Army, Lt. General Abdulrahman Bello Dambazau, and Lt. General Isaac Obiakor Special Adviser to the Secretary General of the United Nations and Mr. Philips Banks III, Minister of Justice of Liberia.