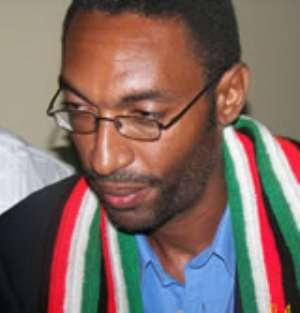 Dr. Paa Kwesi Nduom, flag-bearer of the Convention People's Party (CPP) has reacted angrily to claims by Sekou Nkrumah, son of Ghana's first President that the late Osagyefo Dr Kwame Nkrumah and ex-President J.J. Rawlings share similar ideology.
Sekou on Sunday was quoted as saying that "the ideology of ex-President Rawlings, founder of the National Democratic Congress is similar to that of what my father stood for: that is justice, transparency and fairness".
He justified the 1979 coup and also said the vision of the NDC is like that of his father's CPP, adding that he was of strong conviction that in the nearby future the NDC and CPP would merge because their ideology are the same.
Reacting in a telephone interview from the Ashanti Region where he is currently on a campaign tour, Dr Nduom said "there is only one CPP and no amount of trying to dignify the unjustifiable can make CPP and NDC one".
"This is not possible. You cannot by any stretch of imagination equate the CPP with the NDC or Dr Nkrumah with Ex-President Rawlings."
Dr Nduom said "I find it unfortunate that Sekou will try to do what he cannot do. If he has decided to join the NDC let him just stay there and extol the virtues of the NDC".
He continued: "Sekou must not attempt or try to bring the CPP and NDC together because it is not something within his scope of opportunity".
The CPP flag-bearer said "I do not have any quarrel with Sekou joining the NDC. That is his democratic right but he cannot say what he does not know.
"He should not try to confuse himself in trying to suggest that the CPP and NDC are walking along the same path".
Asked why it was not possible for the CPP and the NDC to come together, Dr Nduom said "those who are coup makers cannot be glorified in Ghana. It is because of the instability they brought that is why we are still suffering as a country".
He said "the CPP is different from the NDC and our ideologies are incompatible. The CPP came to build but the NDC came to sell every thing the CPP toiled to build".
"Sekou should leave the CPP alone but if he decides to join us like his sister Samia did, that will be his choice."
He commended Samia Nkrumah for exhibiting political maturity saying "she has not said anything against her brother as her brother has chosen to do".