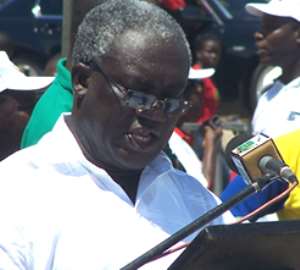 The Trades Union Congress (TUC), has called on the Electoral Commission to put its house in order to prevent the country from slipping into the level of power sharing deals which has recently become the bane of African politics.
The TUC said Ghana had successfully experienced a democratic dispensation for the past years and it would be a tragedy to slip to the level of power sharing.
Mr Kofi Asamoab, Secretary General of the TUC who made the call at a public forum in Accra said the plans and preparation being made by the Electoral Commission towards the general elections leave much to be desired.
Mr Asamoah who was contributing to discussions on a debate on the exhibition of the voters register said the TUG was prepared to use its structures to assist in the cleaning of the register.
He said the Congress had on a number of occasions expressed concern with the electoral process but the response from the EC had always been insinuations that TUC was ignorant of the electoral processes.
He said if violence erupted in the country nobody would be spared the horrors whether one was ignorant or not.
.
Mr Asamoah therefore called on the EC to learn to acquire objective attitude towards criticisms and improve on their performance, instead of resorting to insults which could not help to clean he bloated register and restore confidence of the people in the process.
Mr Baron Amoafo, a Deputy Chairman of the National Commission on Civic Education called on aspiring politicians to desist from inducing minors with monetary rewards to register.
He said cleaning the register had to be done with the utmost circumspection to avoid an explosive situation likely to heighten tension before election day.

Alhaji Mohammed Mamah Gado of the office of Chief Imam said the Chief Imam and the network of Regional and Community Imams would use their sermons to caution the Muslim youth who were often used and exploited to engage in violent behaviour.
He said the youth would be advised to be wary of politicians who would use and abandon them to their fate in times of trouble.
Rev (Dr) Fred Degbe, General Secretary of Christian Council of Ghana, who chaired the function said the Civic Forum Initiative (CFC) operated on the idea that citizens in their various communities were the major beneficiaries of democratic elections and not politicians.
He, therefore, stressed that it was the citizen who should exercise their civic responsibilities by ensuring a clean register when the voters register is exhibited.
Dr. Degbe said countries such as Togo have done it by pasting the voters register with pictures on the wall in every community for community members to know the minors and foreigners who had infiltrated the register.