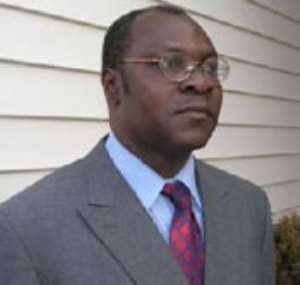 The New Patriotic Party has denounced what it calls "many inaccuracies and falsehoods" in the NDC's manifesto launched on Saturday, October 4, 2008.
It says the '"Foreword"' to the NDC manifesto written by Prof. Mills contains many inaccuracies and falsehoods."

In a statement issued and signed by the Communications Committee Chairman of the NPP, Dr. Arthur Kennedy, the party quoted Prof Mills as saying that "In the areas of the economy, employment, the environment, health, education, and the utilities - you name it – failure is the best mark that can be given to the NPP government."

"That statement by Prof Mills is at odds with the facts. It is inaccurate to describe an economy that has quadrupled from 3.9 billion USD to 15 billion USD while inflation, interest rates and poverty were falling as a failure," the statement noted.

"It is inaccurate to describe a government that has replaced the "Cash-and-carry" system Prof Mills and the NDC left behind with the National Health Insurance Scheme as a failure.

It is inaccurate to describe a government whose policies have led to increases in enrollment across all levels of our educational system as a failure."

The NPP also refuted Prof. Mills' claim that "Allowing the market forces free and unrestrained rein to give direction to our development agenda has failed to give employment to willing workers, leaving a nation grappling with a large section of its population very despondent."

It said such a statement "coming from the man who as Chairman of the Economic Management Team oversaw the privatization of hundreds of state-owned enterprises leading to the loss of about seventy-thousand jobs is breathtaking. If Prof Mills now believes that the unbridled privatization of the NDC era was wrong, let him admit that before criticizing others."

Dr. Kennedy said it was false for Prof Mills to claim that Guinea worm infestation in Ghana is second only to Sudan.
He argued that from 2003 to 2007, the number of Guinea worm cases reduced from 8000 to 3358 before dropping by a further 86% last year. "Furthermore, in 2006, Ghana was certified by the WHO as polio-free."

The statement also chided Prof. Millsfor saying that "Water and electricity supply are extremely erratic or non-existent in some cases".
He said during "its tenure in government, the NDC extended electricity to 1909 towns. To date, the NPP has extended electricity to 2413 towns and construction of the BUI DAM, on the drawing board since independence is under way. In the provision of water to communities, the NDC record is very pale in comparison to that of the NPP. While between 1994 and 2000, 3804 boreholes were completed, between 2001 and 2007, 8191 boreholes which over twice the number under NDC were completed. Also, while the NDC completed 174 new pipe systems, the NPP has completed 411. The water systems completed includes that for Cape Coast, whose perennial water shortages were well-known to Prof. Mills."

"In the area of sanitation, we have completed 43,861 toilets/KVIPs while the NDC completed only 11,002.

On Security, Prof Mills pledges to provide security for all Ghanaians and rid Ghana of the drug menace but we have been here before. The drug issue was never resolved under the NDC and currently, the NDC is against the NPP plan to double the police force and give them better equipment and training. Indeed, just like in other areas, the NDC is known more for what it is against than for what it is for."
Dr. Kennedy expressed regret that that Prof Mills's foreword was a virtual attack on the NPP rather than an outline of his vision.

He said "we are convinced that our manifesto of moving forward, compared to the NDC manifesto of maligning the NPP will stand up very well."

Story by Malik Abass Daabu