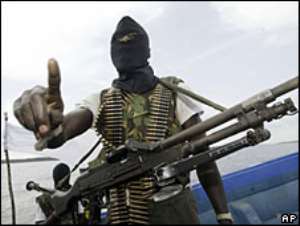 A British national kidnapped by gunmen in Nigeria has been released, the Foreign Office has confirmed.
The man was seized by a five-strong gang on 15 September in Port Harcourt, at the heart of the country's Niger Delta oil region.
Originally from Scotland, the man was reportedly a former employee of the Indo Rama petrochemicals firm.
A Foreign Office spokeswoman said he was released unharmed early on Saturday.
More than 200 foreigners have been kidnapped by militants in the Niger Delta, the heart of the country's oil industry, since 2006.
Almost all have been released but rebel action has disrupted oil supplies.
'Safe and well'
The spokeswoman said: "We can confirm that a British man was released on Saturday and is safe and well.
"He was kidnapped on 15 September at Port Harcourt. We are not able to speculate on who might have been behind it.
"Nigerian authorities were taking the lead in the investigation and our staff were in touch with them."
She was unable to confirm details of the man's identity or the circumstances in which he was freed.
However, the man is believed to be a businessman from Aberdeen who has lived in Nigeria for several years.
Reports suggested no ransom was paid to secure his release.
Rebel activity
The kidnapping coincided with action by the rebel Movement for the Emancipation of the Niger Delta (Mend), which "declared war" on the Nigerian Oil Industry last month.
Mend caused severe disruption by attacking gas plants, oil installations and pipelines. It claims to be fighting for greater control over oil wealth in the impoverished region.
But opponents say the militants make money from criminal rackets and trade in stolen oil.
Nigeria's oil production has been cut by 20% because of unrest in the region over the past few years.