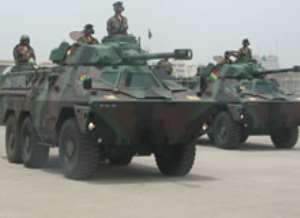 The Commanding Officer of the Asutuare Military Training Camp, Lt Col. Thomas Oppong-Peprah, has denied media reports that the camp is training security personnel to rig the December e1ection.
Speaking at the closing ceremony of the fifth batch of the Border Patrol Unit of the Ghana Immigration Service here on Thursday, he said, there had been reports on an Accra based radio station that his outfit was training personnel to rig the December poll.
He described the speculation as unfounded and that like any other military training school, it was established to offer training to its personnel or any other security agency that requested for the retraining of its personnel.
Lt. Col. Oppong-Peprah stated that those that the radio station sought to refer to were rather 200 personnel of the Ghana Immigration Service (GIS) that were being trained for border patrol duties.
He said the personnel were there for an eight-week course in confidence building, team work, intelligence gathering among others to enhance their preparedness more especially on border patrol duties.
He said his outfit had no intention whatsoever to cause disruption in the up-coming election or subvert the laws that govern the country nor mar the peace that the country is enjoying, and appealed to the media to be circumspect in the discharge of duties.
Lt. Col. Oppong-Peprah commended the trainees for exhibiting great sense of discipline, commitment and dedication throughout their training and praised the management of GIS for retraining the personnel.
The Deputy Director of GIS in charge of operations, Mr Moses K. Gyemfi, said the personnel were drawn from the various stations of the service to boost their confidence and imbibe in them the spirit of team work based on openness, honesty and acceptance.
He said as a front agency that admit or deals with prospective travelers, there was the need to effectively and efficiently train its personnel in the discharge of its duties.
"The current trend of immigration related crimes, cross border crimes and our position in the sub-region demands well trained, highly skilled, knowledgeable and motivated personnel to man and manage our frontiers".
"If is for this reason that the directorate of the GIS with budgetary support from the government has placed a lot of emphasis on targeted training programmes to achieve the kind of results that we all desire," he said.
Mr Gyemfi said management of the service was so far satisfied with the performance of personnel deployed at the various points along the country's borders.
At Bawku, for instance, he said the personnel were complementing the efforts of the Ghana Armed Forces to clamp down on miscreants in the municipality.
He warned the personnel not to mishandle travelers or traders in the discharge of their duties.
Mr Gyemfi commended the commanding officer and his team for imparting skills and knowledge to the personnel and urged the officers to exhibit the good training that was given them.