Enquirer: gov't gurus hijack police enlistment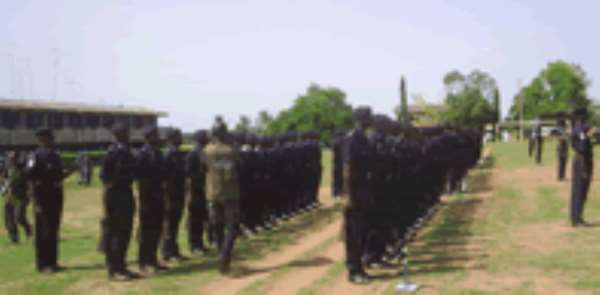 High ranking government officials at the seat of the presidency are seriously interfering with enlistment into the Ghana Police Service, The Enquirer reports.
The paper says that names are sent by certain powerful people at the Castle to various police training schools for them to be considered.
It claims the number of recruits from Jamasi, Daban and Mampong, all in the Ashanti region currently undergoing training is alarming.
A letter in possession of the paper has confirmed that police administration is sometimes coerced to accept recruits who are not qualified.
The letter was written by a Member of Council of State to the police administration directing that some selected people should be considered for recruitment.
Under the normal procedure, there should be an advertisement followed by written examination, body check, medical check at the police hospital, BNI and CID vetting and letter of admission before one can get into any of the training schools.
However, The Enquirer was told that the procedure is being circumvented and the only aspect of the procedure currently working is the medical check.
Again, the paper gathered that there was enlistment at Wa on July 30, this year without any form of advertisement.
Apart from that The Enquirer learnt that out of 120 people who passed out from the Koforidua training school, 80 of them came from the Offinso North Constituency alone.
The paper was told by some senior police officers that the interference is having a far reaching-toll on the service because most of the people brought into the service by the 'bigmen' are simply not qualified.
It was gathered that most of them cannot read or write properly and sometimes are above the required age limit.

It is recalled that the Ministry of Manpower Youth and Employment in March, this year, recommended that the Community Protection Assistance should be absorbed into the Security Services.
The ministry at the time said that the security services will be helping in securing the future of the youth who have displayed high sense of duty.
But The Enquirer was told by some senior police officers that the move was just a decoy to get some people with connection in government to be recruited into the Security Services for hatched jobs.