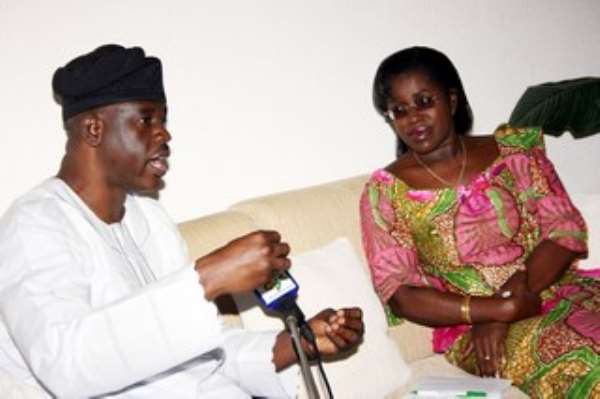 THE Nigerian High Commissioner, Senator Musiliu O. Obanikoro, has suggested that Ghana should set up a committee to study the case of his country's Niger Delta to pre-empt problems relating to oil exploration and the industry, notably resolving problems when they occur. "The Niger Delta should be a big lesson to Ghana to be abreast of the challenges associated with the oil industry," he said during a courtesy call on the Minister of Tourism and Diasporan Relations, Mrs Oboshie Sai-Cofie, yesterday in Accra.
He expressed regret at the negative activities of some Nigerians in Ghana and said the government of Nigeria would collaborate with Ghana to deal with the bad ones.
The two countries must cooperate to spearhead development in the sub-region, he said, and suggested that Ghana should use the Pan-African Festival (PANAFEST) as a factor to integrate the continent.
Mrs Cofie said government has taken a cue from the problems relating to the Niger Delta adding structures will be put in place to forestall conflicts when exploration begins.
She said cooperation between the two countries is vital and called for their tourism industries to collaborate to attract bigger investors.
The ministry looks forward to a dynamic relationship between the tourism sectors of the two countries, she added.
Last year, Ghana discovered oil reserves in commercial quantities in the West Cape Three Points block, off Ghana's coast on the west.
Fears have been expressed that mismanagement of the resource could lead to the country not reaping the benefits from it, and, therefore, making the resource become a curse more than a blessing, which can lead to unrest as is the situation in the Niger Delta.
However, the government has promised to adopt measures to effectively manage the resource towards national development.
A number of fora has been held towards developing a framework for the management of the resource.
Nigeria, one of the world's biggest oil producers, has for years been confronted with unrest in the oil rich Niger Delta whose citizens are demanding a share of the oil wealth.
They have become notorious for their rampant attacks on pipelines and kidnapping of expatriate oil workers.