Mills sees Ghana`s future…through Nkrumah`s vision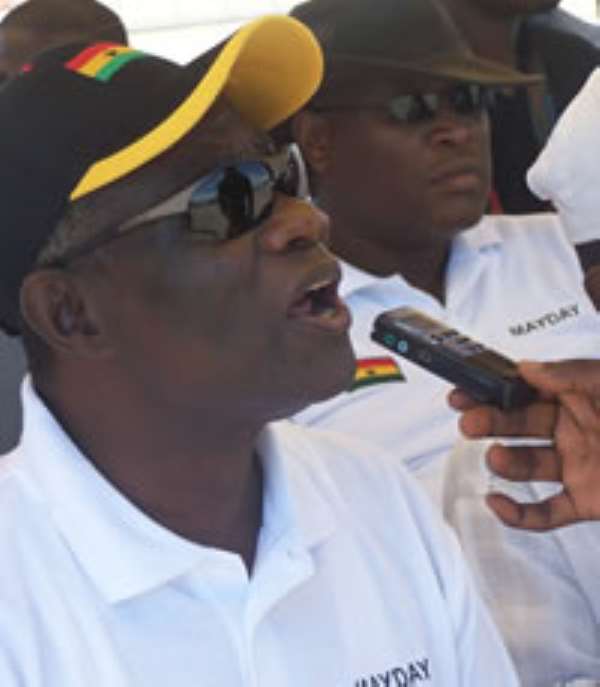 Though the Flagbearer of the opposition National Democratic Congress (NDC), Professor John Evans Atta Mills is not a member of the Convention People's Party (CPP), there is one thing that he seems to love about the party, that is the vision of its founder, Osagyefo Dr. Kwame Nkrumah.
When Prof. Mills took his turn at the Institution of Economic Affairs (IEA) encounter, he was full of praise for the late President for the legacy he bequeathed to Ghanaians.
He thus promised to chart the cause of Ghana's first President when given the opportunity to rule Ghana in the upcoming elections. He described Nkrumah as a visionary with great ideas.
He took his time to answer questions put to him by the audience and Joy FM's Matilda Asante, who had the opportunity to moderate the programme.
Professor Mills, who spoke on a wide range of issues including good governance, economy, agriculture, education, health, energy, law and order and the much talked-about drug trade promised to give Ghanaians a government which would be sensitive to the needs of all citizens.
In his opening remarks, the NDC Flagbearer expressed grave concern about the deplorable conditions under which some Ghanaians live saying, "these are matters of great concern to Ghanaians and I fully share these concerns."  
He made a cursory analysis of Ghana's economy and deplored how President Kufuor and his New Patriotic Party (NPP) government are handling affairs of the country.
According to him, most of the targets set by the government are not being realised, indicating that this was the case for the year 2007 as it was for 2006.
"In these past two years, when you look at the Domestic Primary Balance (DPB), which matches current revenues against current expenditures, so as to assess the ability of a government to live within its means, we see significant negatives– minus 4.60 % of GDP in 2006 and minus 6.70% in 2007," he emphasised.
For this reason, Prof. Mills said, "I shudder to think what the figures for 2008 are going to look like!"  
During his days as vice-President and Chairman of the Economic Management Team, Prof. Mills said "this balance was very positive, registering surpluses– positive 3.21% of GDP in 1997, positive 3.81% of GDP in 1998, positive 2.39% of GDP in 1999 and even in the difficult year, 2000, still registered positive result of 2.30% of GDP." With confidence, he said, "this was the measure of prudent fiscal management which we shall resume, come January 2009."  
He wondered why the debt of Volta River Authority (VRA) and the Tema Oil Refinery (TOR) stands over US$1.25 billion and still rising.
This alone, according to him gives an indication that there is no sign of measure being taken to address these economic imbalances, stressing that they rather get worse by the day.
The NDC Flagbearer raised issues with the government saying that the economy is doing well, asking rhetorically "what manner of self-deception is this?" 
"We want Ghanaians to judge for themselves which party and which Presidential candidate has more convincing and practical programmes to address the problems that we are confronted with", Prof. Mills stated.
"I want a better Ghana where no region is left behind in development and where all, regardless of ethnic background feel a sense of belonging. 
I promise a government which is responsive to the urgent needs of the vulnerable segments of the society", he emphasised.
Whilst he recognises poverty as the number one challenge facing this country, he pledged to redefine national priorities, redirect resources to tackle poverty and restore those he described as able-bodied Ghanaians to dignity and employment. 
Prof. Mills said he wants to claim the future for the people of this country and like Nkrumah, he stressed that "I am looking ahead, not looking back because I want to leave an enduring legacy of a peaceful and united country, where there is opportunity and prosperity for all. And I want to be remembered as the President who restored honesty, truth and sincerity to government." 
He promised that the NDC's manifesto for the 2008 elections will be an inspiring one. 
Describing some its ideas as big, simple but innovative, the learned professor noted "they are all attainable goals. They will make Ghana a better place for all." 
On how the NDC will fund its plans, the NDC Flagbearer had this to say, "we will begin by cutting out the greed and extravagance of government."