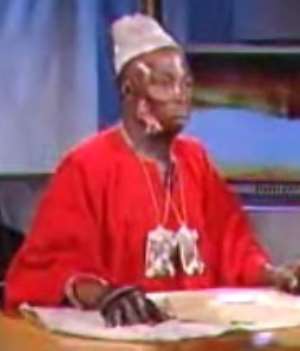 When the dreaded fetish priest Nana Kwaku Bonsam stormed the offices of DAILY GUIDE yesterday for an unscheduled visit, some staff took cover, afraid to set eyes on him.
But during an ensuing chat, those who hosted him marveled at his Godliness when he said, "I am a Christian and cannot challenge Almighty God. I am called Steven Osei Mensah".
The fetish priest, who has topped the newspaper front page chart for a while now, quoted the famous Biblical dictum: "Give unto Caesar what is Caesar's and to God what is God's" when he tried to differentiate the position of the Creator and the 'kofi-kofi' fetish.
"I am a church-goer and belong to the SDA Church," he said.
He stated that he owns two Holy Bibles - an English version and a Twi one - adding that but for God, he would not have been where he is now.
The Christian side of the fetish priest sounds ironic considering his scheduled showdown with a pastor last week, an encounter which after all did not take place.
Many who looked up to the showdown considered it a battle between a fetish priest and a Man of God.
On the source of his scar-face which has added to his awesomeness, he said: "I used to work in a gas depot in Kumasi's Pankrono Adabraka, and seven years ago there was a fire outbreak during which I suffered burns on my face."
On whether he would agree to kill for a client, he exclaimed: "Not even for ¢200 billion! Anybody who comes to me with such a request would be turned away".
The fetish priest recalled the intervention by Otumfuo Asantehene in the row between him and Rev. Ebenezer Adarkwa, the pastor who recently threw a challenge to him.
The Ashanti King, he said, asked for a truce between them and counseled him to continue with his good works for the Ashanti Kingdom.
Tracing the source of the misunderstanding between him and the pastor, he said: "Someone observed on air that there was no difference between pastors who sell anointing oil and fetish priests.
Erroneously thinking that I made the remark, he went after me, making all sorts of derogatory remarks against me.
"He for instance described me as a crook and that the vehicle I use was acquired crookedly. The fact is that I bought the vehicle genuinely."
Defending the fetish institution, he stated that Okomfo Anokye did a lot for the Ashanti Kingdom and that an important edifice like the Okomfo Anokye Teaching Hospital had been named after him in Kumasi because of his contribution to the Ashanti Empire.
"This shows the extent of service this fetish priest rendered the community," he stated.
Regarding politics, he said: "I do not want to delve into it", adding that a political story written about him was false.
He told DAILY GUIDE that he was contributing immensely to the good of society, pointing at the Grace of God International School at Afrancho in the Ashanti Region.
Kwaku Bonsam mentioned that he founded the school and continues to fund it.
On the powers of the fetish he said: "Some of them understand English and can even write. They can do all sorts of things at different occasions. At the appropriate time they set in to render a particular service," he said.
The eggs and chicken blood associated with the fetish, he explained, "are used for the accomplishment of certain ends like enabling a barren woman to conceive."
When his story hit the front page of the DAILY GUIDE there was a flurry of efforts by many to get his contact address.
Many readers called from both local and foreign addresses seeking to get in touch with the fetish priest.
He was recently blessed with a baby girl who was delivered in a Christian hospital at Techiman in the Brong Ahafo Region.
His possession by the Kofi-Kofi fetish began six years ago and since then he is able to perform acts which are beyond the ken of people who behold him in action.
This, he indicated, is done through the fetish, who at times contribute to the running of some charities.
Although a few readers have questioned the sense in publicizing a man they consider a magician and an atheist, many more Ghanaians, both at home and abroad, have shown copious interest in the subject.
By A.R. Gomda