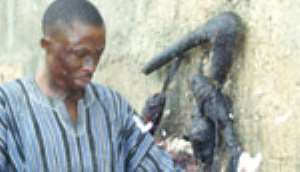 Ghana's sensational fetish priest, Nana Kwaku Bonsam yesterday stormed Manhyia Palace, the seat of Asantehene Otumfuo Osei Tutu II, during the celebration of Akwasidae, ahead of a scheduled 'battle of the spirits' between him and a 'man of God'.
The proposed spiritual contest between Kweku Bonsam and Ebenezer Adarkwah Yiadom, General Overseer of Ebenezer Miracle Worship Center at Ahenema Kokoben in Kumasi, has been rescheduled for today, Monday 19th May, 2008.
Rev. Adarkwah, who is known to have performed astonishing miracles, last Friday told Happy FM, an Accra-based radio station that his absence at the venue of the spiritual contest last week was not deliberate and that he was not the least scared of Kweku Bonsam.
Adarkwah was the first to throw the challenge and set a date for it; but he failed to turn up for the contest last Thursday.
The fetish priest however turned up and took the mammoth spectators through a supernatural display of powers and it took the spraying of tear gas by the Police to disperse the crowd that was collecting the conjured cedi notes.
The pastor said though he had originally requested to contest the fetish priest in Kumasi, Kweku Bonsam had insisted that the battle should take place in Accra; thus there was no consensus with regard to venue.
He added that on the day of the competition he (Rev. Adarkwah) heard on the airwaves that the fetish priest had agreed to be at the Kumasi Jackson Park for the 'show'.
"I drove to the Jackson Park at 9.00am and waited for several hours but he did not come.
I then left for the Cultural Centre to see if he was there but he was not. I also sent people to the Sports Stadium to see if he was there but he was not there also.
"I waited till 2.00pm but he never came.
I then had a call from Accra that I had to attend to some church business there and that it was very urgent. For me not to look arrogant I decided to rush to Accra for the meeting.
But when I got to the airport, I saw someone making a call and I decided to listen to what he was saying, so I rolled down the glass of my car window and heard him telling someone that I was about to board the plane but when he realized I was listening, he walked away.
"I got to Accra only to hear around 3:30 pm that Kweku Bonsam had arrived at the Jackson Park and was ready for the planned contest.
"Bonsam is a liar because I had been waiting for him since morning and he only turned up when I left for Accra. Even when I got to Accra, I went to look for him at the forecourt of GBC and also at the Accra International Conference Centre.
I want to tell him that now that both of us are in Kumasi, if he believes in his powers, then I am ready for him," Rev. Adarkwah explained.
When asked why he wants to challenge a fetish priest, Rev. Adarkwah said he was not comfortable with the manner in which Kweku Bonsam was bragging about the powers he had, as if he was the only fetish priest in the country".
The pastor cited Biblical examples of the contest between Prophet Elijah and the prophets of Baal as well as the contest between David and Goliath, to support his stance.
While Rev. Adarkwah claimed he was working with the genuine power of God and could heal the blind, the deaf, the dumb, the lame and cast out demons, Kweku Bonsam said he had given some pastors the power to perform miracles and that he had the power to 'disempower' witches, kill a house fly and bring it back to life, plant seeds and make them germinate into trees on the same day and also conjure money, wrist watches, cloths and many other things.
DAILY GUIDE (DG) recalls the following interview during which the fetish priest said: "I am an Ashanti Fetish Priest; a powerful one of course, and I use my powers to heal the sick, help people who want to travel abroad, help traders get better sales, protect people from fraudsters, disempower witches and wizards, or help people who have one problem or the other.
And I am well-known for the wonders I perform in this country so I receive people from all parts of the country and even people from other countries".
DG: What type of ailments do you cure?
KB: Oh, I have cured and continue to cure sicknesses like lunacy, barrenness, stroke, epilepsy and any other disease you can think of, except leprosy. I have not done that before.
DG: That sounds good, but why the name "Bonsam"? It connotes something evil.
KB: I got that name due to the wonders I perform. I once took my gods, "Kofi-Kofi" and "Chacha" to the palace of the Chief of Techiman and I was able to conjure money, a gold watch, handkerchief and other things there.
It was so wonderful that the Chief of Techiman, Nana Ekumfi Ameyaw IV said since I was called Kwaku and every Kweku has 'Bonsam' as his nickname, I must have been a real Kwaku Bonsam to have performed the way I did, and that was it; the name just stuck.
By Halifax Ansah-Addo