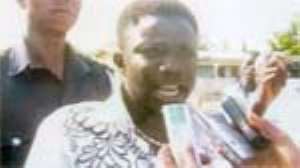 REV. EBENEZER ADARKWA Yiadom, Founder and Leader of the Ebenezer Miracle Worship Centre at Ahenema Kokoben in Kumasi caused a stir last week when he heaped curses upon curses on people who he claimed were making mockery of him.
He said: "In the name of the God that I serve faithfully, any woman who will tease me that Kwaku Bonsam has defeated me, she and her entire family including her children would suffer all the days of their lives.
"Any girl who will tease me about this issue, I swear that poverty will be her portion all the days of her life.
"And any boy who will make mockery of me about the Kwaku Bonsam issue will always be a slave and would beg before he gets his daily bread; that boy will never prosper in life," he told Nkosuo FM.
Rev. Adarkwa-Yiadom, had, after boasting on radio that he was more powerful than Kwaku Bonsam, the sensational fetish priest from Akomadan-Afrancho in the Ashanti Region, failed to show up for a spiritual contest between him and the latter.
Kwaku Bonsam, beaming with hopes, however stormed the Jackson Park, venue of the spiritual contest, to show some of his spiritual prowess to the delight of the elated crowd that jammed the place.
Kwaku Bonsam, before performing his wonders, bragged that he was battle-ready to shame Rev. Adarkwa-Yiadom and that it was unfortunate that the Man of God could not show up for the contest.
Following this development residents of Kumasi, who phoned into various radio programmes, accused Rev. Adarkwa-Yiadom of chickening out.
Others went to the extent of openly teasing the Man of God of not wielding spiritual powers from the Omnipotent God as claimed, thus his decision not to meet Kwaku Bonsam face-to-face.
But in a sharp rebuttal, Rev. Adarkwa-Yiadom, speaking on Nkosuo FM in Kumasi, emphatically stated that it was untrue that he ran away from Kwaku Bonsam for fear of being disgraced by the fetish priest.
He wondered aloud why some people were making mockery of him, especially on radio networks across the city.
Rev. Adarkwa-Yiadom who sounded irritated, surprisingly heaped numerous curses on people he claimed were teasing him, to the dismay of thousands of radio listeners in the Garden City.
Touching on events leading up to the no show spiritual contest, the pastor explained that the spiritual contest was originally scheduled for the forecourt of the Ghana Broadcasting Corporation (GBC) in Accra on Thursday, May 15, and not Jackson Park as claimed by Kwaku Bonsam.
According to him he was in Kumasi on Thursday morning and went to the Jackson Park around 10:00 am and found the place empty, insisting that he was not afraid of Kwaku Bonsam as being speculated.
He continued that he left Kumasi for Accra by air around 2:45 pm that day and that Kwaku Bonsam who monitored his movements for the day, stormed the Jackson Park when he was airborne.
"Immediately I left Kumasi to officially open a branch of my church in Accra, Kwaku Bonsam hurriedly stormed the Jackson Park to brag that he was more powerful than me, which is false."
Rev. Adarkwa contended that he was more powerful than Kwaku Bonsam and was prepared to meet him anywhere, any time and at any place. "I am ready to face him squarely and I will bring his evil works to an end on that day.
"I will command Kwaku Bonsam to fall from his horse; he cannot match me because I serve the living God," Rev. Adarkwa-Yiadom indicated, adding "if he defeats me, go and burn my church".
Reacting to a question as to whether it was Biblical for a Man of God to engage a fetish priest in a spiritual contest, Rev. Adarkwa-Yiadom said "as David confronted Goliath who was making mockery of the Israelites, God's chosen people, so I will defeat Kwaku Bonsam to give glory to God".
From Fred J.A. Ibrahim Jnr., Kumasi