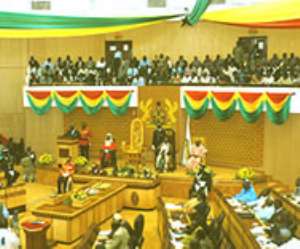 The Director General of the Ghana Education Service (GES), Mr Sam Bannerman Mensah, and other top officials of the service on Tuesday answered queries from the Public Accounts Committee of Parliament on issues raised by the Auditor General.
An Auditor General report released this year said over Gh¢153 million was in 2004 indebted to students owing fees or through non-competitive bidding in senior high schools across the country.
The committee's queries today centred on the accounts of senior high schools in the Central and Brong Ahafo regions.
Deputy Minister of Education, Mrs Angela Baiden Amissah and Directors of the GES from the various regions were also on hand to answer queries in the audited accounts of the GES in 2004.
Joy News' Stephen Ante sat through the question-and-answer session.
He reported heads from the Winneba Senior High School who were charged with "unreceipted pay vouchers" to the tune of Gh¢780 and unpaid taxes of Gh¢1080, were exonerated when they presented an audited certificate from the Central regional Auditor General office indicating the school had been cleared of the two issues.
The committee's sitting ends on Thursday.
By Fiifi Koomson