Ghanaians stranded in Barbados return home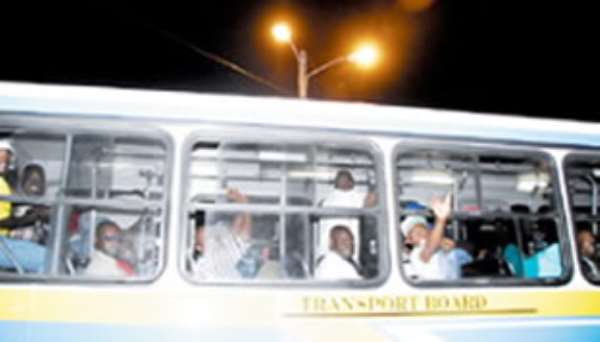 The Ghanaians and other African nationals who were stranded in the Caribbean island of Barbados have finally returned home. They arrived at the Kotoka International Airport on a chartered plane Wednesday night May 7, 2008.
According to government officials, Ghana's Counselor officer in Havana who is also responsible for the island facilitated the repatriation deal with the Barbadian government.
The US$250,000 bill for the charter plane was borne by both the Ghanaian and Barbadian governments.
153 passengers, including some Nigerians originally went on the trip but officials say only 96 were repatriated including about 40 Nigerians. The rest however, can not be accounted for.
The group became stranded in Barbados when The GIA failed to return to Barbados to bring the tourists back on February 15, 2008.
They were later reported to have been rounded up and detained at Paragon, Christ Church, a military base. While there, it was reported that one of the Ghanaian women in detention was sexually assaulted.
But not so much has been heard about the case since it was first reported by the Barbadian press.
By Emmanuel K. Dogbevi