Veep Tasks Artistes To Focus On National Cohesion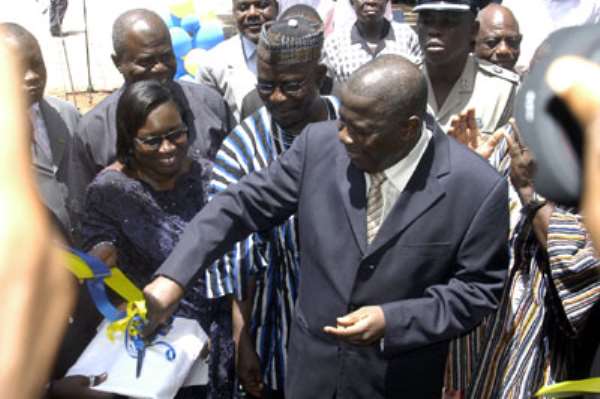 Vice President Alhaji Aliu Mahama Cuts a tape to inaugurate New COSGA office building
Vice President Alhaji Aliu Mahama yesterday called on Ghanaian artistes to focus their attention on societal issues that transcend politics and keeps the national cohesion and development agenda on track.
He said music for instance could be used as a medium to draw the attention of policy makers, politicians and civil society to critical social challenges in a non-partisan way.
Vice President Mahama made the call when he inaugurated the ground floor of a four-storey office block of the Copyright Society of Ghana (COSGA), built at the cost of GH¢ 89,200.
The building, which was initiated by government and copyright stakeholders in 1996, was suspended due to lack of funds.
'This year is a year of electioneering campaigns. All the political parties are working hard to sell their programmes and manifestoes to the electorate. I want to particularly urge our musicians to enrich the political process by preserving the integrity of the country, before, during and after the elections.'
Vice President Mahama said songs and jingles musicians were expected to compose for the various political parties should be done in an order theat will not compromise the unity of the country. He stressed: 'The profit motive should be secondary to the patriotic call for stability.'
Vice President Mahama said government was appreciative of the role artistes were playing to promote the private sector and the alleviation of poverty. He said three years ago, a new copyright Act 2005 (Act 690) was passed to ensure adequate protection of copyright, adding that presently government was in the process of approving a number of regulations for the smooth administration of copyright.
Alhaji Sidiku Buari, Acting Chairman of COSGA Board said members had since 2002 been distributing royalties twice every year to music rights holders. He called on government to speed up work on the approval of the copyright regulations in order to check piracy.
Mr Bernard K. Bosumprah, the Copyright Administrator said the Paris-based International Confederation of Societies of Authors and Composers gave COSGA a loan of 200,000 francs to hasten the completion of the Ghana copyright offices.
Professor George Hagan, Chairman of the National Commission on Culture, who chaired the function, noted that without copyright no creative person could make a living.
Please click here to view photos