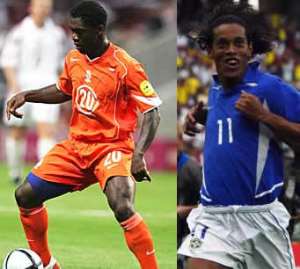 AC Milan midfielder Clarence Seedorf has warned Ronaldinho that if he joins the Rossoneri he will have to pick a different number for his shirt.
The Brazilian ace has been widely tipped for a move to AC Milan at the end of the season. He is finding life very hard at Barcelona and has been told that his services at the club are no longer required, and the Rossoneri are set to win the race for his signature.
However, any hopes of him being handed the number 10 shirt have been dashed by Clarence Seedorf, the proud owner of the number at Milan.
Ronaldinho was given the number 10 shirt off the back of Juan Roman Riquelme when he moved to Camp Nou from PSG five years ago, but there is unlikely to be a repeat.
"When I was playing for Inter, I used to wear the number 10, and when I moved to AC Milan, I could not continue using it because it belonged to Rui Costa," explained Seedorf.
"When he left the club, I was able to wear my favourite number, so I think that this example should prevail this time as well."
However,, Seedorf stressed that he is very happy with the possibility of playing alongside Ronaldinho, saying: "I will be very happy, because he is a big champion. He will be welcomed."Goal.com