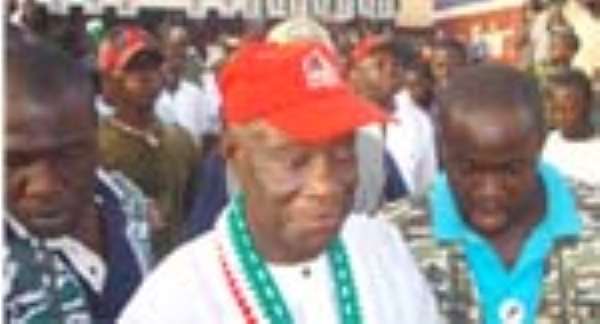 A group calling itself Concerned Muslim Youth in Tamale has threatened to defect from the NDC with the selection of Mr. John Mahama as the running mate to the party's flag-bearer.
A JOY Fm news report from Malik Daabu stated that the group says the selection of a Christian to partner Prof. Mills, also a Christian, is not only a miscalculation but also unwise.
A group of youth in the Tamale Metropolis had gone on rampage, raising objections to the selection of Mr. John Mahama following media speculations to the effect.
The group, led by an NDC youth activist in Tamale, Sofo Yusif Azorka advocated the selection of Alhaji Mohammed Mumuni, who partnered Prof. Mills in the 2004 elections.
But the flag-bearer of the NDC on Wednesday presented Mr. Mahama as his choice who was unanimously endorsed by the National Executive Committee (NEC) of the party.
That decision is now being contested by the so-called Concerned Muslim Youth in the NDC who think the decision is fundamentally wrong.
A leader of the group, Adams Suhyine said the support base of the NDC was basically in the northern part of the country, which is predominantly Muslim, as well as Zongo communities.
He said to neglect the concerns of that category of people in the party and select a non-Muslim as the party's vice presidential candidate was unfortunate.
"The NDC is seen to be a Muslim northern party but this decision is undermining our support," he pointed out.
Mr. Suhyine said the decision amounted to risking the chances of the party in the 2008 elections.
He said if the New Patriotic Party (NPP) decides to choose a northern Muslim, it will stretch the amount of work the NDC needs to do to win the elections.
According to him, members of the group will not rule out the possibility of defecting to any political party that takes into consideration the concerns of Muslims in choosing a running mate.
"We are the foot-soldiers of the party and we can see there will be difficulties ahead. With this decision, we will sit down and watch," he stated.
Responding to the concerns, a leader of the NDC in the Northern Region, Alhaji Umar Yussif said every group in the party had the right to express their opinions.He however called for maximum restraint to ensure that the chances of the party are not jeopardized.
According to him, since the decision was irreversible, it was important for members of the party to tame their egos and shelve their difference and let the collective interest of the party reign supreme.