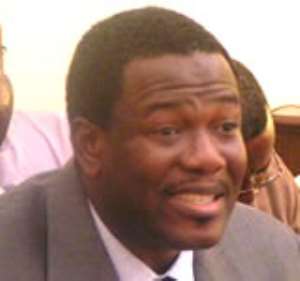 The Volta Regional Minister, Mr. Kofi Dzamesi and his deputy were nearly lynched by angry assemblymen in the New Nkwanta North District.
This followed the failure of Mr Abdulai Fulamba, President Kufuor's nominee for the office of District Chief Executive (DCE) for the district to get the endorsement of the 17-member assembly.
Mr. Dzamesi and his deputy, Mr. Joseph Nayan were accused of masterminding the rejection of Mr. Fulamba.
Mr. Fulamba, a businessman polled seven votes falling short of the two-thirds majority approval required, at the assembly's meeting to approve his nomination at Kpassa.

Mr. Kofi Dzamesi, Volta Regional Minister, took his car and sped off leaving behind his driver.
Mr. Nayan denied masterminding the no vote for Mr. Fulamba but Joy News Agbeko Ben Kofie said he was suspected to have instigated the rejection because he felt he could not work with Mr. Fulamba.
Mr. Nayan is the Member of Parliament for the area and contested the last primaries with Mr. Fulamba.
Mr. Dzamesi expressed disappointment at the failure of the assembly to give the President's nominee the nod.

He said the entire process of appointing a DCE would be carried out again in conformity with the provisions of the local Government Act.