Progressive Governance Summit Ends In UK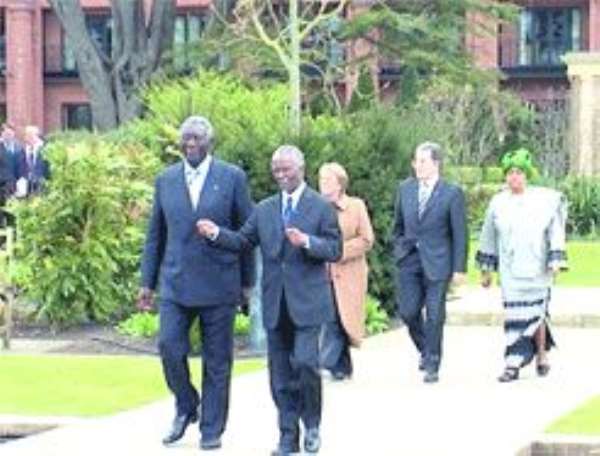 About 20 world leaders have wrapped up their two-day summit in London with a call for immediate action to put the Millennium Development Goals (MDGs) at the forefront of the international agenda.
Consequently, they have asked the international community to give priority to lift 75 million people in Africa from poverty by 2010, to ensure the enrolment of 25 million children in schools and extend quality water supply to 70 million people as part of the milestones towards the MDGs by 2015.

In a communiqué adopted at the end of the summit, which was intended to find solutions to climate change, threats to security and economic globalisation, the leaders decided to use the upcoming UN Summit in New York in September to push for an action plan to fast-track $9 billion for 60 educational initiatives and a commitment to train 10 million teachers by 2010.

Such an action plan, the communiqué said, would seek support for increased donor funding of $10 billion for health systems and a commitment to train four million health workers needed by 2015.

The plan would also seek a comprehensive action to reduce malaria-related deaths by 75 per cent, as well as a commitment to provide $8 billion in aid for trade and infrastructure.

"The world is witnessing a development emergency and we need a worldwide effort to get back on track to meet the MDGs," it said.

On trade and economic integration, the leaders pledged to push for a World Trade Organisation ministerial meeting in May to agree on the modalities on both agricultural and non-agricultural market access and lay the foundation for a full deal by the end of 2008 for a successful conclusion of the Doha Development Agenda.

"Any deal must include a substantial package of support for the poorest countries, including aid for trade, more simplified rules of origin, special and differential treatment and action on specific commodities. Failure may undermine a rules-based multilateral system and global growth and let down the world's poorest people," they said.

The participants recognised the need to integrate those countries outside the global trading system into global trade and, therefore, pledged their support for the African Union in its effort to establish an African Common Market that would boost both intra-African and international trade.

On global security, the leaders observed that more than 50 years after the creation of the United Nations, the deployment of peacekeepers to manage and stabilise conflicts usually took a long time.

They, therefore, called for more timely UN planning for stabilisation and recovery after authorisation of a peacekeeping mission by the UN Security Council.

They said faster funding to provide immediate support for reconstruction and appropriately trained teams of civilians and experts to help to put countries on the road to economic recovery and political stability was also urgent.

To prevent the occurrence of the recent turbulence of the financial markets, the leaders underscored the need for the IMF to be vigilant and use surveillance as its vehicle to provide an effective and timely oversight of the global economy and financial markets.

Story by Nehemia Owusu Achiaw