Nana Konadu: No easy choice for Mills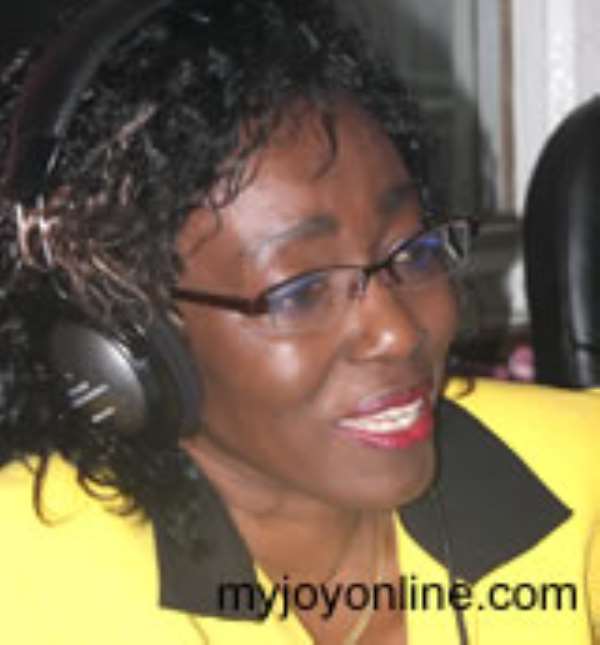 Listen to Nana Konadu talk to Joy FM's Akwasi Sarpong
Former First Lady Nana Konadu Agyemang-Rawlings says National Democratic Congress presidential candidate, Prof. John Evans Atta-Mills will not have things his own way in the choice of a running mate.
Nana Konadu told Joy FM's Akwasi Sarpong that Mills, in the 2004 elections, was treated with 'kids gloves' in his choice of a running mate, and this time around, he won't have to do it alone but with the party's National Executive Committee and the Council of Elders.
"We must do things properly. Atta-Mills can only nominate and when he nominates, he takes it to the council of Elders and then he takes it to the NEC, National Executive Committee, they will do their deliberation before he can say, this is the person I want and that has not been done."
Asked if the prescription is what she felt should reign or was what the party constitution prescribed, Nana Konadu said it is the arrangement set out by the constitution and should be followed going into a 'crucial' election.
"I think that they were treating him with kids' gloves in 2004 and allowed him to do what he wants but this is a crucial election for us and we have to do things properly."
Nana Konadu is one of several NDC women pushing for Mills to nominate Mrs Betty Mould Iddrisu, a career lawyer and wife of a former Minister of Defence, Alhaji Iddrisu Mahama.
According to Konadu, Betty Mould Iddrisu will fetch more votes for the NDC than either of MP John Mahama and former Mills' running mate in the 2004 elections Mohammed Mumuni, whose names have also been rumoured as favourites.
"If you look at the three northern regions, even with the NDC not getting any constituencies in the Ashanti Region, the numbers that we brought on board if you take Bantama alone, we didn't win there, don't forget, we got only I think 'twenty-something' thousand and NPP got a 'hundred-and-something thousand'…but if you look at the 'twenty-something' thousand, it equates to nine constituencies in the Northern region in numbers and politics is a game of numbers, we are talking about numbers here and I know that if Betty is brought on board, we will be able to get many, many more numbers coming our way in the Ashanti area and the other Akan areas than any of the two men that you are suggesting."
Nana Konadu maintained that former President Rawlings pushed for the nomination of John Mahama but Mills insisted on going with Mumuni. That decision, she said did not sit well with some officials of the party, including then Chairman, Obed Asamoah, nonetheless Mills was allowed to have his way 'but look at where it ended us."
Author: Isaac Yeboah