Cocaine in Police custody turns into flour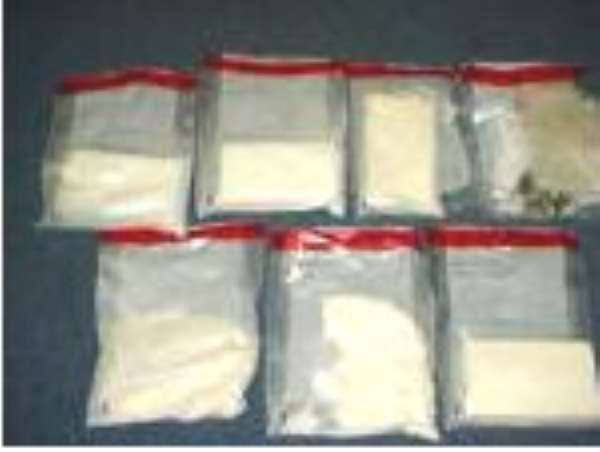 It has now been established that a yellowish corn flour was used to substitute the cocaine kept at the Police Exhibits Store at the CID Headquarters adjacent to the Police Headquarters in Accra.
It has also been brought to the attention of the Kojo Armah Committee investigating the circumstances leading to the substitution of the cocaine that a box containing 30 kilogrammes of cocaine is also missing from the store.
The Chairman of the committee, Mr. Kojo Armah, who is also the Member of Parliament for Ewalue Gwira told the Daily Graphic that the initial test results from the Ghana Standards Board (GSB) indicated that corn flour, yellow in colour, was put in the store in place of the original cocaine that was seized.
He said the committee was, however, awaiting a final report from the GSB on the substituted substance.
The issue of the swapped substance was detected on the very first day of the test and it was communicated to DSP Akagbo, storekeeper at the Exhibits Store, the following day by the Director-General of the Criminal Investigations Department (CID) upon receipt of the information from the GSB through Chief Superintendent Alphonse Adu-Amankwah, the then Head of the Organised Crime Unit at the CID Headquarters.
"A complete box, Box Number 46, containing 30 kilogrammes of cocaine, was found missing during the audit ordered by the Director-General of the CID, Deputy Commissioner of Police (DCOP) Frank Adu-Poku," a highly placed source told the Daily Graphic.
At the time of first examination on July 10, 2006 when 67 boxes of cocaine, each containing 30 kilogrammes, were brought from Tema "everything was intact and tested positive for cocaine", the source added.
The missing box was detected at the end of the audit. The lock to the store was changed after it had been discovered that the substance was swapped. It is, however, not clear whether the box was stolen before or during the audit.
Asked if the committee had recommended the removal of the Chief Superintendent Adu-Amankwah from the Organised Crime Unit, Mr. Armah said it had taken a position not to discuss its report in public until the Minister of Interior had issued a statement on it.
He, however, said that he was aware that the Chief Supt. Adu-Amankwah had been moved from to a new unit, the Police Operations and Research Directorate, since March 20, 2008.
As to whether the witnesses who appeared before the committee had been truthful in their evidence, Mr. Armah said it was normal for people to cover their tracks during investigations.
He explained that some witnesses had to be recalled as many as four times to clarify their testimonies.
Mr. Armah said there were some witnesses who had been frank in their testimonies to the committee, while others have tried to be elusive.