Kufuor named Chairman of Allliance for African Foundation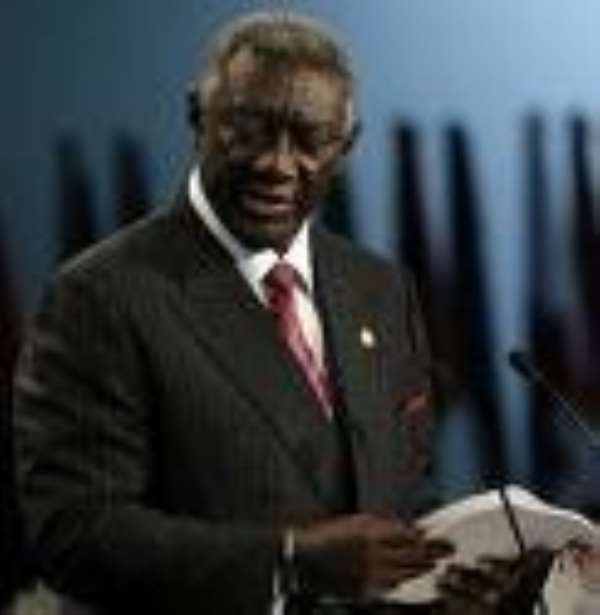 President John Agyekum Kufuor has been named Chairman of the "Alliance for African Foundation", a new global effort at mobilising support to help the continent to unlock its potential and reduce poverty. The announcement was made at a well-patronised meeting with African Ambassadors in the French Capital, Paris, on Thursday, where the initiative was formally outdoored.
The Foundation, whose priority focus is on capacity building in education with special emphasis on Vocational Training, Health, Agriculture and the Public Services is being promoted by influential leaders from across the world. Italy, a key driving force behind the initiative, has already committed 10 million Euros as seed money for its take off. Being purely private sector-driven, the funds raised are from individuals and businesses.
The Mayor of Milan, Mrs Letizia Brichetto-Arnaboldi Moratti, said rich nations have a responsibility to show stronger commitment and share in a new partnership and solidarity with Africa, given its slow pace towards the realisation of the Millennium Development Goals (MDGs). This should not be at only the level of governments but the business and financial community as well as non-governmental organisations.
President Kufuor welcomed the initiative, whose main thrust is human resource development, noting that, no society can make significant progress without a solid human capital base. "We must be sitting on gold, silver and oil but without human resource development, we cannot develop."
He said Singapore's phenomenal progress achieved through the development of the human capital is a good example. President Kufuor said the Foundation's goal of partnership promotion fitted well into Africa's own blueprint to launch itself into mainstream globalisation, the New Partnership for African Development.
He gave the assurance that the project would be nurtured to help out countries in Africa that are coming out of brutal conflicts as well as those hit by harsh natural conditions.

Accra and Milan would co-host the headquarters for the running of the Foundation. The two, he said, would work together to set the pace for more leaders around the world to join in to empower Africa to move quickly to be part of the globalisation.
Ghana's selection to co-host the headquarters of the Foundation is based on the exemplary leadership of President Kufuor and the strong signs the country was showing towards achieving the MDGs.
GNA