Foreign Medics Visit Kufuor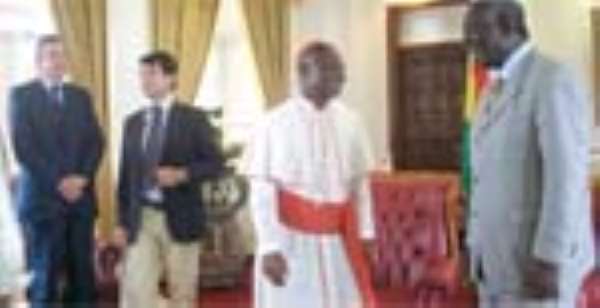 A team of foreign health professionals yesterday visited President John Agyekum Kufuor at the Castle, Osu.
The delegation, made up of medical experts from Rome, Milan and the United States, was led by his Eminence Cardinal Peter Appiah Turkson, Archbishop of Cape Coast to brief the President about the progress of work on a sub-regional health centre that is being built at Kumasi in the Ashanti Region.
The aim of the project is to offload the burden on the Komfo Anokye Teaching Hospital (KATH) in Kumasi and make health care more accessible to the people.
Members of the team, led by Mario Cappello, Coordinator for Friends of Hope for Exchange, include Riccardo Masetti and Alba Di Leone of the Catholic Union of Rome; Katrina Mc Ghec and Stacey Ramirez from the Komen Foundation of Dallas-Texas; and Domenico Scopelliti, Marina Sammartino and Livia Azariti, representing an Italian Organisation called Operation Smile.
The Italian Ambassador to Ghana, Fabrizio De Agostini also accompanied them.
The initiative was the result of a meeting President Kufuor had with the Mayor of Milan during one of his recent trips to Italy.
The hospital, when completed, apart from the provision of general healthcare, would specialize in the treatment of breast cancer, surgical treatments, eye care and other complicated medical cases.
President Kufuor, after welcoming the team to Ghana, praised them for their voluntary service to mankind.
Expressing his appreciation, he said "I am very impressed that such a distinguished group is doing such good work to support Ghana".
He said the services being provided by the experts for free would have cost the nation so much if they "had been contracted. It would have been so expensive that our budget would have been dislocated, but you are doing it voluntary for mankind".
On his discussion with the Mayor of Milan during his recent visit to Italy, the President said greater things were yet to come from that meeting, disclosing that Milan intended to set up a body that would mobilize resources to support other countries and he, President Kufuor had been selected to chair that body.
Later in an interview, Eminence Cardinal Turkson told journalists that the land for the health care centre was provided by Archbishop Sarpong of Kumasi while the rest of the funding for the project was solicited from private donor agencies.
The hospital structure has been built but yet to be furnished with medical equipment.
Mr Cappello said the hospital was expected to start offering services to the public hopefully by November this year.
"We have come to partner and share with the excellent medical personnel in Ghana and in our service we hope to learn and enrich our knowledge," he observed.
Mr Fabricio De Agoshni, the Italian Ambassador, said the project was a good example of a private-public sector partnership.
By Emelia Ennin