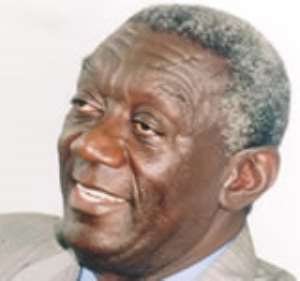 President Kufuor has charged Members of Parliament (MPs) from the Bawku area to work assiduously towards securing peace in the area.
He said it was unfortunate that the MPs, some of whom had been in public service for long could not secure peace in their area.
The President was speaking at a meeting with the Paramount Chief of the Bawku Traditional Area and elders of the Kussasis to try and find a solution to the Bawku crisis.
"To you Members of Parliament, you are also leaders in your own right and some of you have been in public life for a long time and I wouldn't be surprised if some of you have ambitions to go even higher than just MPs.
"And if you won't help to secure peace in that corner, how can you aspire to do anything bigger?", he questioned.
"So I am counting on you to go beyond the party divide so that together we can help our people to also live together", the president added.
To the Bawku Naba, Asigri Abugrago Azoka, President Kufuor said "you are the Naba. You must be the father of everybody in that area and I
am sure you feel responsible for peace in Bawku".
That feeling, he stressed, must be translated into practical efforts to resolve the crisis.
Now "I want to know all the causes as you see them of the troubles in the area so that I can enlist your cooperation for government to think
with you to [find] the way forward", he stated.
The president said he had not neglected the situation as had been suggested in some quarters.
According him, he was relying on the expertise of the security agencies which was very necessary in the resolution of the conflict.
He expressed regret at the situation where security personnel deployed to the area to maintain peace were being attacked by the residents.
Bawku and its environs have witnessed a bloody chieftaincy dispute between the Kussasis and the Mamprusis.
Since New Year's eve all efforts by the Interior Ministry and the Upper East Regional Security Council have not been able to quell the raging tensions and violence.
Houses have been burnt and people killed.
A dusk to dawn curfew has been imposed since then and reviewed back and forth.
The latest review came on Tuesday evening following renewed violence in the area that claimed two lives.
The curfew now runs from 3 PM to 7 AM.
In an effort to resolves the crisis, the president assembled the elders and leadership of the Kussasi ethnic group at the Castle to impress upon them to try and find a lasting solution to conflict.