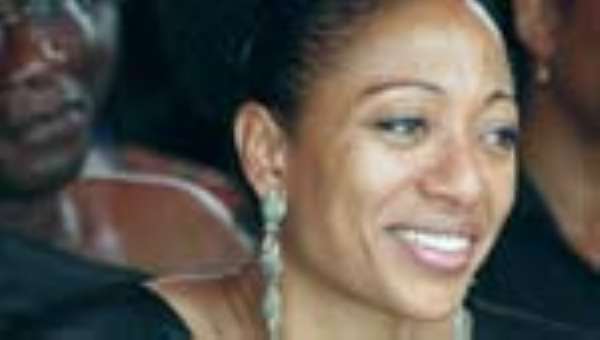 SAMIA YAABA, the only daughter of Ghana's first President, Dr. Kwame Nkrumah, has disclosed that she and her younger brother, Sekou, have disagreed on her political decision to remain in bed with their father's Convention People's Party (CPP).
She told DAILY GUIDE that Sekou, who is currently flirting with the National Democratic Congress (NDC), was disconcerted by her political decision and that they were divided over the issue.
Samia arrived in Ghana from her Italy base last Tuesday, and as at yesterday evening, had not met with her younger brother Sekou, who resides at their late mother's residence at Labone in Accra.
Samia, a 48-year-old journalist, lecturer and consultant, had since last Tuesday been lodged in a private hotel in Accra. She told DAILY GUIDE that she would be leaving Ghana for Italy last night.

Asked if she and Sekou were on talking terms, Samia responded in the affirmative and said they had been communicating on phone and that she hoped to see him yesterday- the day of her departure after a week's stay in Ghana.
"He is not happy with my political choice but that is not surprising considering his own choice; but we are talking from heart to heart as brother and sister and I think that is very important.
"I am meeting Sekou today but we have been talking on the phone on numerous occasions. Of course he is not happy about my decision to go with the CPP, but we would keep on talking.
"I believe and keep on saying that the doors would always be open in the CPP for Sekou and he would be better off in the CPP.
"I am saying it, others are saying it, and he knows it; but I cannot tell Sekou what to do. I respect him and I dare not tell him what to do," she noted.
Prior to her arrival in Ghana, Samia had told DAILY GUIDE that she would be in the country to brainstorm with some CPP bigwigs on how best to fulfill her burning desire to dabble in Ghanaian politics.
There had been reports that she might contest as MP for the Komenda-Edina-Eguafo-Abrem (KEEA) constituency while other reports said she would partner Dr. Paa Kwesi Nduom as the CPP vice Presidential candidate.
When DAILY GUIDE asked her which of the reports was credible, the late president's daughter said she was initially considering the KEEA seat but had come to realise that there were some constitutional constraints on that decision.
"We are not considering KEEA now simply due to constitutional constraints which could be an obstacle. The whole Ghana is my home but it was during independence that one could contest as MP anywhere. Now, there are a lot of restraints so we are moving away from that.
"Honestly speaking, running as Vice President now is not my preferred choice and not an option at the moment. I think there are very capable people in the party who can take up that position. The Vice thing is not my option; it is the media that is talking about it," Samia added.
She gave an assurance that she would contest one of the parliamentary seats in the Western Region where her father came from and actually lived during his heydays.
She thus left Ghana with no clear decision on what exact role she would play in the CPP.
Samia said she had to return to Italy yesterday because of her 10-year-old son, Kwame, and also because she had some loose ends to tie up.
She would return to Ghana in April for a brief stay, and then in June for good.
By Halifax Ansah-Addo