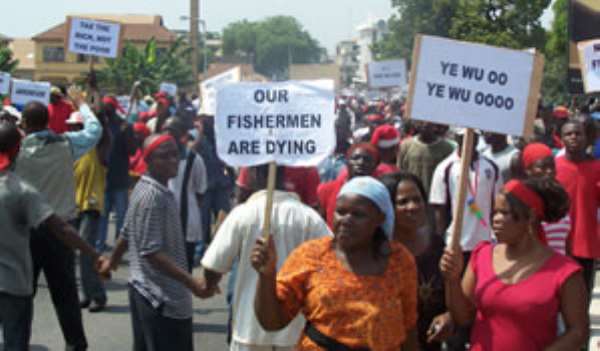 The Committee for Joint Action, CJA says it is taking government to court over the use of footages of its demonstrations in a TV commercial.
The commercial which has been running in the media for some time now shows protestors at one of the CJA's marches protesting the high cost of living and utility charges as well as the non-existence of adequate jobs for the youth in the country.
The CJA is protesting the use of the footage in the TV commercial by the government which suggests that all those people shown in the footage are jobless and need jobs. The commercial therefore, suggests that the government would use income from the proposed cell phone talk time to create jobs for these people.
The CJA says the TV commercial is misrepresenting its views on the tax, because the CJA, as it claims is not in favour of the talk time tax and is therefore,protesting its use.
Speaking in an interview on Joy FM's Super Morning Show, a leading member of the group, Kwesi Pratt Jnr said the group was embarking on the action to ensure that its position was not misrepresented.
"This is also to ensure that government's propaganda is based on facts and not falsehood," Mr Pratt stated.
Meanwhile Deputy Information Minister, Frank Agyekum reacting said government is ready to meet the CJA in court claiming the group has no patent right to the footage.
Meanwhile, speaking to Joy News, Political Scientist Kwesi Amakye of the Kwame Nkrumah University of Science and Technology says, the CJA's demonstrations are affecting government policies. In his view therefore, the use of the footage is government's reaction to the effects the protests are having on its policies.