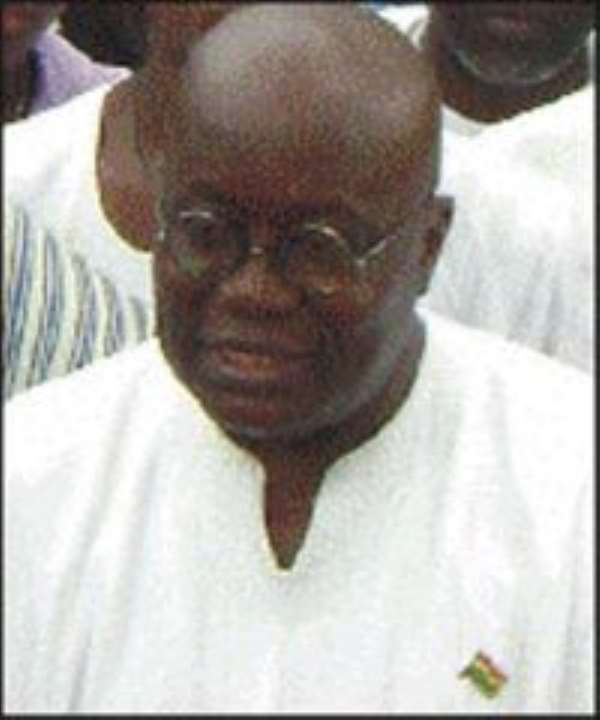 Ghana's Consul General in the United States of America, Obeng Gyan Busia has described former President Rawlings as a coward who now feels threatened by the unblemished political life of Nana Akufo-Addo, Presidential Candidate of the New Patriotic Party, hence the decision to open verbal attacks on him.
He has therefore asked Mr Rawlings to judge himself and declare to all Ghanaians the source of the money used to purchase the bullet proof Land cruisers and the $500,000 used to pay their import duties before he could question the integrity of Nana Akufo-Addo.
Speaking exclusively to The Statesman last Friday, Obeng Gyan Busia also challenged Mr Rawlings to tell Ghanaians where he generated funds to finance his children's education in Europe before calling somebody a thief. In his opinion, Nana Akufo-Addo had a rich background and created enough wealth for himself through his legal profession before venturing into politics.
However, the same thing could not be said about Jerry Rawlings who declared a Nissan Datson vehicle as his only property in 1992 but bought 5 land cruisers and two Jaguar sports cars for his personal use, after stepping down from power, adding, "I don't think the word 'thief' used by Jerry Rawlings carries an ordinary meaning. I believe he might be referring to something else."
Mr Gyan Busia's comments were in reaction to allegations of theft Mr Rawlings made against Nana Akufo-Addo at Akwatia last week. The NDC founder had told cadres on Wednesday at Akwatia in the Eastern Region that Akufo-Addo became flag bearer of the NPP because the NPP National Organizer conspired with some unnamed persons to rig the polls at the ruling party's congress in his favour.
Mr Busia also condemned the war drums sounded by the flag bearer of the National Democratic Congress, John Evans Atta Mills that there could be violence if the NPP wins the 2008 general elections.
"When the NPP felt the 1992 election was rigged, we wrote 'the Stolen Verdict' and did not resort to violence because of our love for the country. We believe that victory is not attained through violence and lawlessness, but love for democracy and good governance", he said.
Mr Busia admonished the NDC: "I must tell them that the gun they are threatening to wield may not be selective. If it happens all Ghanaians be they NDC, NPP, CPP, PNC and even those without political affiliation will be affected", he said.
By Adu Koranteng