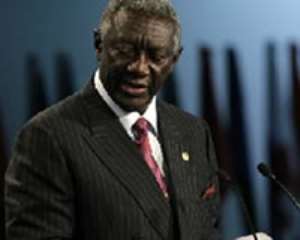 President John Agyekum Kufuor on Thursday granted audience to a delegation of the Association from Black Cardiologists at the Castle, Osu.

The group led by Dr Gerald DeVaughan, was in the country to share their knowledge and experiences with their Ghanaian counterparts to help to improve on the quality of health care in the country.

Based in the United States, this was the Association's third visit to Africa and in the case of the West African Sub-Region, the first.

President Kufuor, who welcomed the initiative, said there were a lot the Country's Medical Schools could learn from the Americans.

He commended the delegation for putting their expertise in Science and Technology at the service of mankind.

"This is how it should be" he said, adding that, Africans should never allow the past to hold them back.

Dr DeVaughan said they were in the country to have a better understanding of the health problems facing the people to help to set up programmes to bring relief.

The Association was set up in 1974 and has a membership of more than 600 health professionals.

It has the tradition of holding meetings in different developing countries as a means of furthering health education and establishing links for exchanges and sharing of health knowledge.

Ghana has been selected for this year's meeting.