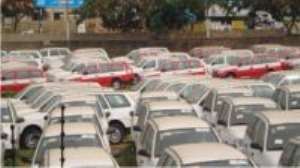 To residents in the East Legon neighbourhood, the mystery surrounding the ownership of some brand new saloon cars parked behind the long wall on the one-way road from Tetteh-Quarshie interchange, Accra, has become the stuff of gossip.
Not even investigations conducted by The Statesman could be conclusive on the matter and that failure even deepens the mystery.
Our checks indicate that someone, purportedly on behalf of government, has purchased about 400 Volkswagen saloon cars from Auto Parts Ghana Limited for the National Identification Authority to be used as "taxis."
Emmanuel Kwakye, Human Resource Manager of Auto Parts, local agent for Volkswagen vehicles said that the vehicles were ordered by Government for the National Identification Authority.
"I understand that the vehicles are going to be used as taxi cabs by government, but I don't have much information about it. What I know is that we were paid to deliver the vehicles for government," he stated.
He told this paper the vehicles were 400 in total.
However Bertha Aboagye, an official of the National Identification Authority denied any knowledge of the vehicles. "I don't know anything about the cars which are purported to have been bought by the Authority. No one has been informed about incoming vehicles and I have no idea about who owns the cars or the organisation they belong to," she said.
Attempts by The Statesman to seek the reaction of the Executive Director of the Public Procurement Board, A B Adjei, over the issue failed, as his staff said he was unavailable and could not be reached.
However, Jaclyn Kwofi, Executive Assistant to the CEO of the Board told The Statesman in a telephone interview that she wasn't aware of any purchasing agreement between the Authority and Auto Parts Ghana to supply Volkswagen vehicles for the state.
"I don't know anything about it and have never seen any document covering such deals. I think you need to speak to my boss, he can probably, confirm or deny it," she stated.
The Deputy Minister of Information, Frank Agyekum also told The Statesman he had no knowledge of the cars and their owners. "I don't know anything about what you are saying and I am not aware that government has purchased VW cars for the National Identification Authority," he said.
By Adu Koranteng