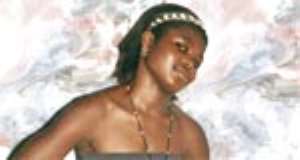 THE HANKERING for alcohol has caused the untimely death of a 23 year old girl in Bantama, a suburb of Kumasi, the Ashanti regional capital.
Akua Attaa, a waitress at Amsterdam Drinking Spot in Bantama collapsed and died minutes after consuming a full bottle of Pusher, a locally manufactured gin.
Her body has since been deposited at the Komfo Anokye Teaching Hospital (KATH) morgue in Kumasi awaiting autopsy.
A source close to the hospital told DAILY GUIDE that Akua on Thursday, December 6, around 7:00 pm in the company of a certain guy believed to be her fiancée went to Canadian Drinking Spot in Bantama to have a drink.
The source said Akua, who wanted to display her drinking prowess to impress her fiancée, boasted that she could single handedly consume a full bottle of Pusher.
According to the source, the fiancée, after a lengthy argument with her, finally called her bluff and bought a bottle of Pusher which she gulped down in a couple of minutes.
The source pointed out that Akua subsequently begun to behave strangely and collapsed, drawing a large crowd to the scene.
He noted that as she failed to respond to first aid treatment, the fiancée became dumbfounded by the spectacle and eventually absconded from the scene, leaving Akua to her fate.
The source continued, that after exhausting all attempts to resuscitate her, well-wishers rushed her to KATH where she was pronounced dead around 9:00 pm.
Meanwhile, close relations of Akua have told DAILY GUIDE that until her untimely death, she was known to have a strong craving for alcoholic drinks. They however expressed shock that she could go to the extent of consuming a whole bottle of Pusher.
From Fred J A Ibrahim Jnr., Kumasi