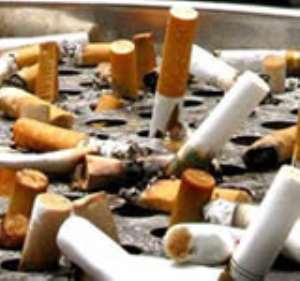 Clinicians in Africa and developing countries must build a database on smoking, alcohol and substance abuse through research to enable them to inform and advise policy makers on the appropriate strategy required to curb the menace.
Dr George Amofa, Deputy Director-General of Ghana Health Service, made the point in Accra on Friday at the opening of a two-day consultation meeting on the use of the Alcohol, Smoking and Substance Involvement Screening Test tool dubbed: 'ASSIST' and brief intervention strategies against substance abuse in African countries.
It was organised by the World Health Organisation (WHO).
"Clinicians need to embark on a baseline epidemiological research to know the magnitude of the problem and thereafter update it on a regular basis but the few clinicians are overburdened with clinical work load and there seem not to be adequate funding for research", he said.
The "ASSIST" tool is a new instrument, which has been developed to test early users of alcohol and other drugs and to help with their intervention even before the use gets established.
Dr. Amofa noted that health professionals had not been able to influence and attract the attention of policy makers to issues of substance abuse due to the lack of data to back such advocacy.
"The lack of adequate tools and personnel in Africa generally has been our bane in terms of research for data. It is therefore welcome news that a tool as simple as ASSIST has been developed, very user friendly and reasonably sensitive and specific to catch the intended population", he noted.
Dr Amofa said even though a World Bank report issued in 1999 estimated that smoking-related healthcare accounted for 6-15 percent of health budget in high income countries, the smoking of tobacco had increased in developing countries.
"The World Health Report of 2001 estimated that one in three adults or 1.2 billion people then were smoking and estimate was that by 2025 more than 1.6 million would be smoking and 8.4 million would die from tobacco and its effects," he said.
Dr Akwasi Osei, Acting Chief Psychiatrist at the Ghana Health Service, noted that the law that established the Narcotics Control Board under the Ministry of Interior had already weakened the board's inability to fight the drug menace.
Dr Osei explained that the location of the board naturally placed emphasis on the legal aspect of drug use leading to the disadvantage of the medical aspect.
He said there was no policy on the use, production and distribution of alcohol, adding that the Ghana Health Service had been making efforts to pass a tobacco bill but it was far from success.
Dr Osei called for a sustainable programme for the management of substance abuse in order to curb indiscipline and crime in society.
Dr. Therese Agosu, Regional Adviser on Mental Health at the WHO urged the media to disseminate information to remote areas to ensure that people become aware of the dangers involved in smoking, alcohol and substance abuse.
Participants attending the meeting are from Ghana, Senegal, Burundi, Zimbabwe, Uganda and Cape Verde.