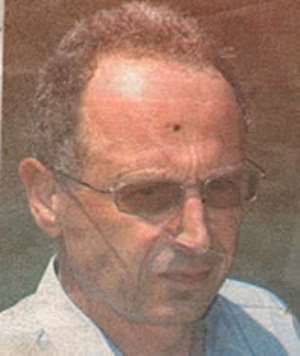 Colonel Dr. Chris Kwesi Agbeka, a gynaecologist at the 37 Military Hospital on Wednesday confirmed at an Accra circuit court that the hymem of the three-year old girl (PW2) who was allegedly defiled by
a British national had been broken.
He said medical examination on the victim revealed that she had contact with somebody but could tell whether it was an adult or a child.
Col. Dr. Agbeka was testifying under cross-examination from Ms. Barbara Sackey, a State Attorney in the ongoing trial of Thomas Alan Tichler, a 57-year-old British who is standing trial for allegedly fingering a three-year-old daughter of his Ghanaian hosts.
Thomas Alan Tichler, a Consultant has been charged with causing harm and indecent assault to the kid. The suspect has been additionally charged with defilement.
He has pleaded not guilty to all the charges.
Dr Agbeka said the urethra of the victim was swollen in addition to the bleeding, there was no mark of violence on the victim.
He said the initial bleeding of the victim was heavy, a condition that required surgery.
Dr Agbeka, who was also cross-examined by Mr Ellis Owusu Fordjour insisted that there was an earlier suggestion to operate on the victim.
He further said the mere examination of the victim would not give all the diagnosis but the history of the patient was very important in that respect.
The facts of the case are that Tichler visited the victim's father at North Legon, near the Redco Flats on October 13, 2007. The victim's father left the victim and her two siblings in the care of Tichler to purchase some items from town.
Tichler decided to play with the victim and her two siblings, aged eight and six, in the living room but he later managed to get the victim alone and proceeded to insert his fingers into her genitals.
Not long after, the victim's mother arrived from town and just as she entered the kitchen, Tichler followed her and requested for water to wash his hands.
Later, the victim went to her mother and said she wanted to urinate and while helping her, the mother noticed bloodstains in the victim's panties.
The victim mentioned the accused person as the one who inserted his fingers into her genitals when her mother questioned her.