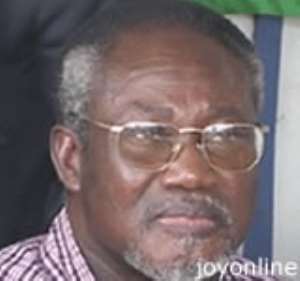 The Life Patron of the Democratic Freedom Party (DFP), Dr Obed Yao Asamoah, has urged the youth of leading political parties to be wary of the unguarded utterances of politicians which may tend to spark off violence before, during or after the 2008 general election.
He said it was unfortunate that politicians continued to make derogatory remarks against one another and said such inflammatory language could lead to the eruption of violence in the country.
Dr Asamoah said this when he addressed a youth rally at Likpe Bala in the Hohoe North Constituency, during which ward and regional executives of the party were introduced. He also used the occasion to launch the campaign for the 2008 elections.
According to him, "the New Patriotic Party (NPP) is saying that it has been in the political wilderness for 30 years so it must win the elections at all cost and rule for 30 years, while the National Democratic Congress (NDC) says it is time for the NPP government to pack off and that it (NDC) will not accept the results of the 2008 election because it will be rigged.
He questioned whether such utterances did not amount to looming violence which would set the clock of progress backwards.

Dr Asamoah said politicians had failed to marry politics with traditions, customs and values and charged the youth to join the DFP, which was determined to marry religion with politics to move the nation forward.
He urged the youth to marry their religious values with the political dispensation prevailing in the country to prepare them adequately to take the mantle of leadership effectively.
He wondered why because of politics some members of families insulted one another, would not talk to one another, injured one another and even killed one another and gave the assurance that the primary objective of the youth of the DFP was a paradigm shift in politics in Ghana.
A large crowd thronged the town to give a rousing welcome to him and his entourage, against speculations that he had been rejected by the people. His address was interrupted intermittently with applause.
Dr Asamoah said bad politics had brought about the bad policies of the past and the present governments and stressed the need to rally behind the DFP which he said comprised all shades of the political divide.
On the economy, he said a DFP government would introduce agricultural subsidies as a means of helping to reduce poverty in the country, saying poverty could not be reduced through Poverty Alleviation Funds, the National Youth Employment Programme and Other interventions.
"We cannot fight poverty without the re-introduction of subsidies for our farmers. That is why our farm produce is more expensive than what is imported into the country," he explained.