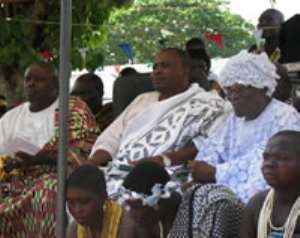 Francis Nyonyo Agboada, alias Regent Togbui Sri III, the chieftain whose purported installation as the Awoamefia of Anlo resulted in a bloody commotion in Anloga, has offered to surrender his ambition on the altar of peace.
Speaking exclusively to the Daily Graphic Tuesday, Regent Sri said his decision to abdicate was borne out of his desire to see peace return to Anlo, which had been torn apart following attempts to install him as the successor to Togbui Adeladza II, the venerable Awoamefia, who died in 1997.
"I give you my word to abdicate if that will bring lasting peace to the people of Anlo," Togbui Sri affirmed.
He said he made that declaration with a clean heart and did not bear any member of the faction that opposed him any grudge, adding that he had seriously considered overtures made to him-by eminent sons of Anlo and other prominent citizens of the country to help resolve the Anlo chieftaincy crisis peacefully.
He also used the occasion to express his personal condolences to the families of all those who lost their lives during the violence that engulfed the area, including a police officer.
"I want to state clearly that I bear no personal grudge against Chris Ackummey, Raymond Okudzeto or any other Anlo citizen. I am ready to dialogue with anybody to ensure peace in the area," he stressed.
Following the uproar resulting from the incident at Anloga, a number of prominent citizens and groups have condemned the action and called for the need to restore peace in the area.
A key actor in the chieftaincy affair, Mr Raymond Okudzeto, has also expressed his willingness to meet Regent Sri to resolve the problem and bring peace to the area.
Togbui Sri, who spoke with a lot of passion, said he believed that peace could only return to the area through the efforts of the people of Anlo, adding, "I am ready at anytime to smoke the peace pipe with anybody for the sake of the development of our people."
He described the recent disturbances as unfortunate and expressed the hope that that incident would not happen in Anlo again.
He also appealed to the people to exercise restraint and work towards returning the area to normalcy.
Events leading to the installation of Togbui Sri III as the Awoamefia were characterised by violence in which four persons, including a police officer, died. One other person died later in police cells.

That resulted in the Interior Minister imposing a dawn-to-dusk curfew on Anloga and its environs. The Anlo Traditiohal Council slated a meeting at Anloga Tuesday to review the situation and the way forward but the Minister of the Interior, Mr Kwamena Bartels, directed the organisers to call it off and warned that those who defied the order would be dealt with.